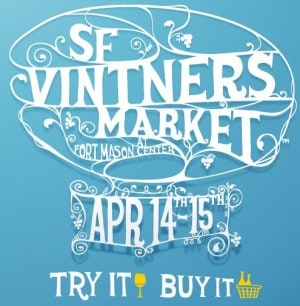 One of very few wine tastings where you can buy on the spot, The San Francisco Vintners Market takes place on April 14 and 15 from 1:00 p.m. until 4:00 p.m. at Ft. Mason Center's Festival Pavilion in San Francisco.
The Festival Pavilion at Fort Mason Center is located on Marina Boulevard at Buchanan Street, along the northern waterfront between Aquatic Park and the Marina Green, within the Golden Gate National Recreation Area (94123).
The San Francisco Vintners Market, now in its sixth year, was started by Cornelius Geary and Jeffrey Playter, founders of Wine 2.0. With market conditions enormously difficult for many smaller wineries, Cornelius and Jeffrey realized the need for vintners to get even closer to their customers and offer their wines to larger audiences than can be found in small tasting rooms in wine country. So the idea was born to bring the tasting room to San Francisco and to help smaller brands find even more wine lovers in The City.
A farmer's market style event held two times per year in the spring and fall at Fort Mason's Festival Pavilion, since its launch in April of 2010, San Francisco Vintners Market has hosted over 25,000 wine trade and consumer wine lovers who have come to taste and buy wines direct from our winery partners.
"The San Francisco Vintners Market is back with a spring showcase of topnotch wineries selling their wines direct to the consumer," explains Cornelius Geary. "If you're tired of going to wine tasting events, discovering great new wines and then never being able to find them again, San Francisco Vintners Market is for you. Similar to farmers markets, our event allows consumers to sample the wines on display and buy them on the spot. We will feature top local wineries and boutique producers from Napa Valley, Sonoma County, Mendocino, Paso Robles, San Luis Obispo, Santa Barbara, Russian River Valley and other regional wineries plus imported wines from around the world. San Francisco Vintners Market features wine at all price points and styles including new releases, library collections and end-of-vintage selections, all available for immediate purchase," he adds.
MORE SF BAY AREA

Coi, Cyrus, French Laundry, Manresa among best Bay Area restaurants

SF Bay Area theaters see 12.5% monthly increase in Twitter followers
Geary says. "San Francisco Vintners Market is all about making it easy for wine lovers to try and buy your wines on the spot. This is your opportunity to move your tasting room to San Francisco for a weekend," he concluded.
The San Francisco Vintners Market will take place April 14 and 15, 2012 at Ft. Mason.
Participating businesses include:
Alquimia Organic Tequila
Ann Rea, Inc.
Be A Gourmet
Bridge Brands Chocolate
Butcher's Daughter
Cellar Angels
CellarPass
CigaRv – The Mobile Man Cave
Drink Me Magazine
Farm Fresh to You
Fuze Beverages
Goorin Bros.
invino
Imported Wines.com
Kara's Cupcakes
Kind Healthy Snacks
Kwan Chan Photography
le truc
Mendocino Winegrape Commission
Mutineer Magazine
The New York Times
Pack n' Ship Direct
Poky's Original BBQ Style Onions
Sacacuento Mezcal
Socola Chocolatier
Square
The Faux Louvre
The Sandwich Spot
The Southern Sandwich Co.
The Taco Guys
Vino Bello Resort
Wine Barrel Concepts
WineMaps
Yount Street Glass
Participating wineries:
Albertina Wine Cellars
Aldrich Browne
Argot
Aubin Cellars – Verbe
Aurielle Vineyards
Bailiwick Wines
Barra of Mendocino
Bedarra Vineyards
Bennett Valley Cellars
Berridge Wine Company
Bespoke Collection
Bonny Doon Vineyard
Bouchaine Vineyards
Breathless Wines
Calstar Cellars
Cameron Hughes Wine
Ca'Momi
Carlotta Cellars
Cask
Cazadero Winery
CE Cellars
Cellars 33
Cesar Toxqui Cellars
Champagne Michel Gonet
Chateau Montelena
Clos Saron
Clouds Rest Estate Vineyards
Collier Falls
Comartin Cellars
Cornerstone Cellars
Cosa Obra Wines
Courtesan
Cru Vin Dogs Wine
Cutruzzola Vineyards
D & L Carinalli Vineyards
De Novo Wines
De Tomas Wines
Delectable
Delgadillo Cellars
Desmond Estate Cellars
Dogwood Cellars
Due Vigne
Ehrenberg Cellars and Carica Wines
Encanto Vineyards
Eristavi Family Winery
Estate 1956 Wines
Faustini
Fog Crest Vineyards
Fogline Vineyards
Frog's Tooth Vineyards
Gentleman Farmer
Giuseppe Wines
Greater Purpose
Greedy Wines
Greyscale Wines
Hahn SLH Estate
Hamel Family Wines
Handley Cellars
Hawk and Horse Vineyards
Hill Wine Company
House Band Wines
Hughes Family Vineyards
Imbimbo Family Winery
J Vineyards & Winery
J. Rickards Winery
JAQK Cellars
Katarina Wine
Lavender Blue
Lawer Family Wines
Le Grande Courtâge
Le Vin Winery
Linaje Garsea
Maldonado Family Vineyards
Maple Creek Winery
Marita's Vineyard
McFadden Vineyards
Modus Operandi Cellars
Moreno BHLV
MRJ2 Wines
Murphy Vineyards
Muscardini Cellars
Navarro Vineyards
Olson Ogden Wines
Palladian
Paradise View Wines
Pech Merle Winery
Pine and Brown Winery
Portalupi Wines
Promenade
Qualia Wines
Rielle Wines
Rivino
Roadhouse Winery
Robledo Family Winery
Rosa d'Oro Vineyards
Rugg Family Wines
RustRidge Winery
Sandole Wines
Sapphire Hill/Merleaux
Savida Sangria
Sheldon
Silver Wines
Simple Math Cellars
Solovino Wines
Terra Savia Winery
Think Tank Wine Company
Topel Winery
Townley Wines
Veedercrest
Von Holt Wines
Wait Cellars
Weingut Edelweiss
X Winery
Frias Family Vineyard
Giving Vines
Andrew Geoffrey Vineyards.