5 questions is an on-going Stark Insider series featuring tech leaders, influencers, and people making change.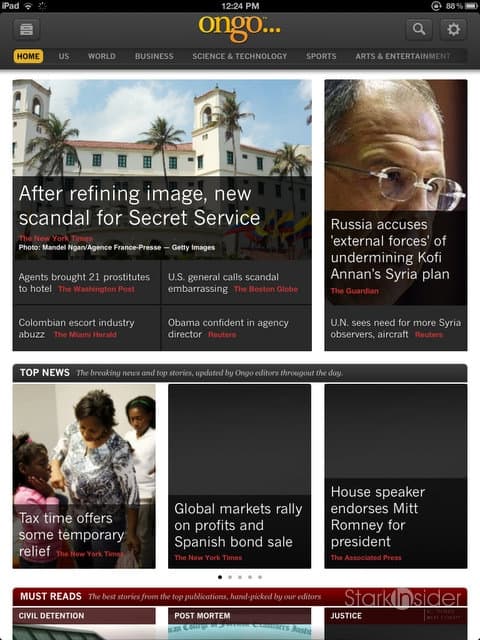 I don't have any metric to back my theory that content – be it from traditional news sources, or from newer platforms such as blogs, Twitter, Facebook and G+ – is at an all time high. Google "Barack Obama" and you'll find over 16,00 news stories related to the President… on the front page alone (there are 32 more pages last I checked). Enter "Google Oracle" into Twitter search and you'll get Tweets by the second including opinion, rants, and never-ending links to articles and blog posts.  The ability to freely publish, combined with the ability for us to readily consume it on mobile devices such as smartphones and tablets (especially the iPad) has created a cottage industry of apps designed to cut through the noise. In the last few years the idea of digital curation has gained momentum, in its wake creating well-known Web personalities like Maria Popova ("interestingness"), MC Hammer (?) who attract legions by sharing and commenting on specific topics. Ongo, an iPad app, is a newer entrant. CEO Alex Kazim spent a few minutes with me talking about his app and our insatiable appetite for all things newsy.
Stark Insider: This is really a crowded space. Zinio. Flipboard. News360. Pulse. Android and iPad news apps seem to pop up daily. Why Ongo?

Alex Kazim: Fundamentally, we believe we offer the best news reading experience in the market.
First, we offer our service across multiple platforms including access on the Web as well as on smartphones and the iPad. Despite all the press that smartphones and tablets get, the desktop/laptop remains the primary news reading device. Pew's recent State of the Media report found that "Fully 82% of people who get news on a computer say that is where they get most of their digital news".
Second, we have license agreements with our publishers that allow us to host the vast majority of our content. This means we can control the user experience from start to finish without the user getting handed off to someone else's website. It may sound like a small thing, but after you've used it a few times you'll appreciate the speed and consistency of the experience.
And third, we've focused our efforts on a curated experience. We have a team of editors that constantly highlight the most engaging stories from hundreds of titles. No one else does the breadth of curation that we do.
In the local news space, I see pay walls winning outright.
Stark Insider: I read that Ongo is ad-free. As a publisher that's a concerning prospect. What's the business model?
Alex Kazim: The business model is essentially a revenue-sharing arrangement. We charge users for the content and the publisher gets a share of that revenue.
Stark Insider: BusinessWeek is about the only digital subscription I have right now. I get all of my stuff, like I suspect a lot of others do too, free on the Web. The New York Times, though, is slowly clamping down – you can only read 10 articles a month now. WSJ and others are charging. The pay wall is upon us. Do you think it will work, or will generation Megaupload win out?
Alex Kazim: I think paywalls will work but there are going to be some nuances.
In the national news space, you'll have readers who are only interested in the event, in which case they'll take the path of least resistance to free sites like CNN. But you'll also have readers who can tell the difference between a New York Times story and a Washington Post story and choose to pay for that content.
In the local news space, I see pay walls winning outright. There just aren't a lot of good free alternatives for local news.
And for magazines, you can see them charging for subscriptions on the iPad. I think they'll eventually switch to a paid model on the web as well.
Stark Insider: Let's talk about curation vs. editorial voice. Are they one and the same, or is there still room for publications and delivery systems that cater to the single vision and constant perspective?
Alex Kazim: There's definitely room for constant perspective service, whether it's the Huffington Post or the Drudge Report — it's just human nature that we flock to things that are like-minded.
Each publication has its own vision and voice, and it feels like each will survive by continuing to deliver that to an audience that values it and relies on them doing so.
With curation, the editorial voice can come in different ways. There are those that aggregate content based on point of view (political or otherwise) and find their voice that way. And then there are those, like Ongo, that sift through and find the most interesting stories and great reads from across points of view. Our editorial voice comes from the collection of stories we spotlight from our publications, from our packaging of related content, from the way in which we label and group stories across our pages, and from our posts on Facebook and Twitter. We look to be smart, unbiased, clear and straightforward, conversational, well-rounded, and enjoyable.
Stark Insider: Ongo excluded (because I know it's your top pick), what are your 3 favorite iPad apps?
Scrabble, iBooks, Cloud Connect
BONUS, okay, the "Stark 3" lightning round… short and sweet, and because we like to mix culture, food/wine around here with our tech:
… your Favorite food/dish?
Burger/Fries/Coke
… best film you recently watched?
Woefully behind in my film watching…would have to be Captain America
… person or figure that most inspires you?
My wife and kids