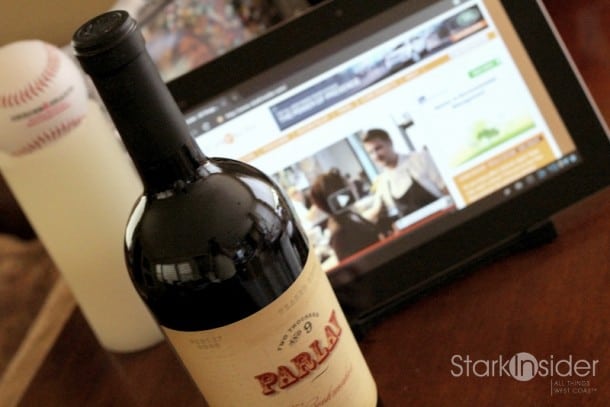 It's time for another weekend wine pick.
This time I'm going red, after waxing poetic for Chardonnay, my springtime fling. Truth be told, I'm way behind on a stock of reds that need tasting, reviewing, and in some cases, celebrating.
"Parlay" is produced by Ramian Estate in Napa, and comes in around $20, the sweet spot for daily drinkers. It was just released this month. Look for it on store shelves, or check winezap or the Google-like 1000 Corks (not Dorks!) for a bottle near you – if you're in the Bay Area, try Golden Gate Cellars in San Francisco. More on this red in a sec, first a confession…I discovered that I have an inexplicable fascination with punts.
No, not the football variety.
I'm referring to the punts found on wine bottles.
Punts are those shallow dimples, or in some cases deep indentations, found at the bottom of a bottle. For some odd reason whenever I pick up a bottle I find myself almost reflexively feeling for the punt. Some suggest that the deeper the punt, the better the wine. Many of the sawed-off ones commonly found at discount retailers are scorned upon by some. I don't know why, nor do I know if there's any truth to the theory that the punt represents quality. I'm sure it would make for a scintillating multi-part series some day here on Stark Insider.
"We are what we repeatedly do"
Now this here Parlay. Young, definitely. Lively, for sure. Fruit forward, roger that.
There's strong tannins at play. Winemaker Brian Graham barrels it (in French Oak) for only 16 months so there's less oak, more fruit on display. The '08's sold out. And this run is limited to 2500 cases. My suggestion is to snag a few (if you can find it). Pop one now with some friends, and stick a few in the cellar for a few years. My wager: it'll taste like a $40-50 Cab in a few years. Then again, I'm not a betting man.
Enjoy the weekend.