I like Griffin. But here the Nashville maker, known for its exhaustive line of iPad, iPod, and iPhone cases, covers and other accessories, has missed the mark. That's too bad. Someone once told me people don't make "un-shopping" lists. They want you to tell them what you like, what's recommended, so they know what to buy among a sea of alternatives.
The Griffin IntelliCase for iPad 2 is clearly a knock-off of Apple's ubiquitous Smart Cover, plus they've added a hard plastic casing to the rear for good measure. All well and good, but the build quality is suspect. On the front you have the well-known folding cover with magnet so that the iPad wakes or sleeps appropriately. Depending on your perspective, the rear plastic cover either: (a) protects the iPad from the day-to-day trials and tribulations of tablet computing; or (b) mars a beautifully engineered Cupertino aesthetic. Either way this is an all-in-one deal. You slip your iPad into the case, and you are sheathed in protection.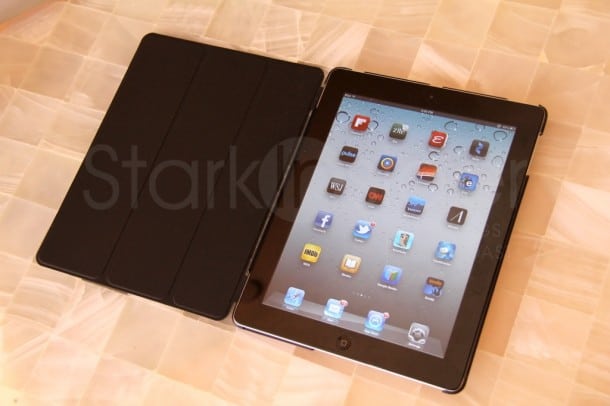 Intellicase also functions as a 2-position work stand. In my tests with an iPad 2, it worked as advertised, but getting the stand to stay in place was far finickier than it should be. You'll need to work at it, folding the cover, bending it to fit into the ugly notch that juts out the rear.
One thing I don't like about this design occurs when you're using it as a stand; you need to manually hold the cover in place behind the iPad. If you don't it swings freely. This is not a criticism of the IntelliCase specifically, as I experience the same issue with other similar cases.
The case retails for $59.99, but you can find it on Amazon for well under half that. Heavy discounting may tell you all you  need to know. It's rare when I write about something I don't like, but somehow I think Griffin will survive. Instead, look for alternatives from Speck, Incipio, and Marware.
Griffin IntelliCase for iPad

2 out of 5 stars (Boohoo)

StarkIN:
All-in-one case, protects iPad and provides 2-position work stand; snug fit; doesn't add much bulk.

StarkOUT:
Poor build quality; ugly notch in rear to accommodate stand; finicky adjustments; materials suspect; long-term durability a question mark.

Verdict:
Griffin can do better.

Price:
$59.99 (or $28 via Amazon)
PHOTO GALLERY: Griffin IntelliCase for iPad 2