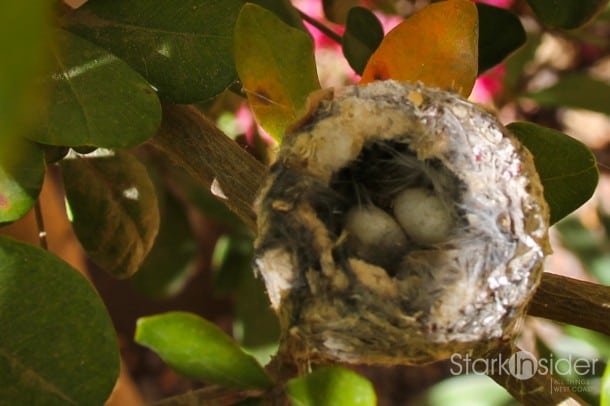 Finally, proof that Stark Insider is for the birds.
These photos aren't likely to hit the cover of National Geographic anytime soon; nevertheless, when I'm here in Loreto, Baja California Sur I look for any excuse to pull out the trusty Canon EOS 60D, a dear friend. Here we have a beautiful Hummingbird nest, sitting quaintly in a tree in the courtyard of our casa in Loreto Bay. Those would be two little eggs.
So well camouflaged and tiny, my wife Loni thought at first glance it was a hornet's nest. Thankfully she didn't swat it down. Instead I got the call, "Cliiiiiinnnnnt!!"
To get these shots, I risked dust damage to the camera (oh, the drama). You can see significant amounts of dirt sitting on the leaves in these photos. Sure enough, when I brought the 60D back inside, there was a layer of dirt all over the casing, on the lens. A momentary bit of shock ensues, but I always smile to myself because the risk is totally worth it. They say you're never really sailing until you get wet. And I think that holds true with photography as well. On that spectrum, though, I have much to learn. And risk in this case is all relative… I wasn't hanging out of a helicopter, or jumping across moving train cars; patience please, I'm working my way up the risk ladder.
A little Googling revealed that the ideal location for Hummingbird nest is well off the ground to prevent attacks by predators (ants, snakes, birds). Also, the nest can not get above 96F lest the eggs cook. So overhead leaves and branches to shield from the sun helps – as is the case with the tree in our courtyard. It takes the mother 5-7 days to build the nest.
I avoided contact, and stood far back from the nest. Instead I relied on the zoom (Canon 18-200mm) to get up-close. I then lightly treated these shots and cropped them in Adobe Lightroom 4 (a great bit of s/w that just came out).
Hopefully the outcome for these soon-to-be baby birds is better than my last adventures in DSLR and nests. Something to do with a rambunctious road runner in San Jose… you can see the "before" video below on that rather shocking conclusion.
Meantime Loreto, Baja continues to stir the soul – cliche, yes, but true. Sierra de la Giganta to the East, and opposite, the stunning, crystal blue Sea of Cortez. Meanwhile the community here has emerged stronger than ever – 6 years later after the developer broke ground, went bankrupt, eventually paving the way for home owner control, and investment by Homex, a Mexican builder. More on that here. It's a case study to be in social media. Unlike the Trump development that went bust up in Baja North, Loreto Bay home owners used social media to level the playing field with organizations far bigger, with far more resources. We organized financials, set-up "sub-regimes" for clusters of homes, collected proxies, created processes. I say "we" in the broad sense, I merely provided some of the technology. Behind the tools, however, are an incredibly skilled group of like-minded home owners who are steadfast in their belief in the original vision for this development. Tread lightly, my friends, tread lightly.
But I digress.
Today, as we head into a weekend featuring the first ever Loreto Food & Wine Festival, is all about these amazing little creatures. To the hummingbirds!
IN PHOTOS: Baja Hummingbird Nest (Canon EOS 60D)
IN VIDEO: Baby Birds – Before the Road Runner (Canon Vixia)