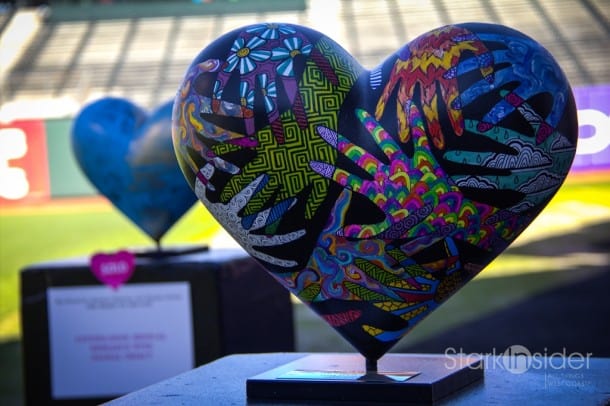 Heroes and hearts of a different kind descended yesterday onto the field at AT&T Park. There was an equal amount of celebration and emotion as over a thousand people showed to lend their support to the San Francisco General Hospital Foundation.
This is my third year attending the annual luncheon, and I felt an incredible amount of energy in the room. When I spoke to people at my table, and around the tent (located smack-dab on the outfield!) I really got a sense of the tight-knit community coming together to help those in need. There were more than a few tears when board member (and luncheon co-founder) Pam Baer took to the podium and described several accidents – a mother hit by a car, and other tragic events across the city. Thankfully the General was there, and all were saved.
A few firsts for the 2012 edition of H&H:
— at only age 15, Lori Chinn, a sophomore at Lowell High School in San Francisco, became the youngest ever to have her heart "Hands of Diversity" chosen as one of fourteen artists to participate at the annual public exhibition (you can see her interviewed in this Stark Insider TV segment).
— 1,000 people came out as I mentioned, and from what I understand this is a record turnout, and one of the reasons why AT&T Park was chosen this year to host the event (in the last two years it was held at Union Square).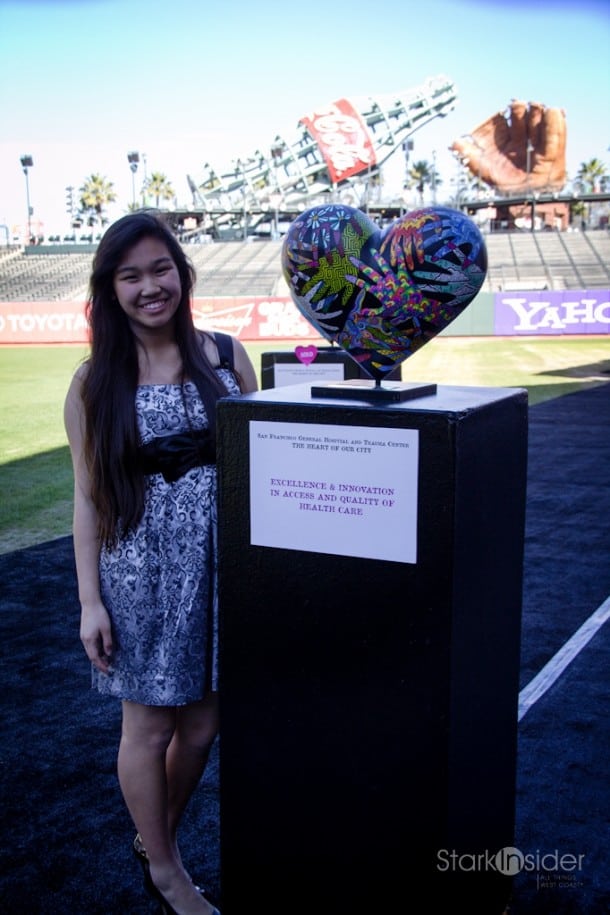 Mayor Ed Lee made an energetic, well received appearance, and helped present hearts to the 2012 Heroes: clinical professor Richard Coughlin, Project Pull co-founder Harlan L. Kelly Jr., Homeless Parental Program founder Martha Ryan and Visitacion Valley Asian Alliance founder Marlene Tran.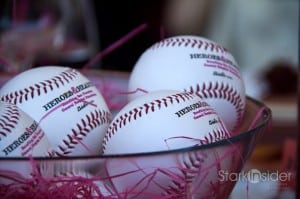 Executive director Stephanie Bray said that the event continues to grow, and SF General is "the first hospital in the country to have a certified traumatic brain injury program." Also, the hospital is being re-built, will be seismically safe, and enable the organization to see more people both day-to-day and in the event of a natural disaster.
By happenstance, I was able to enjoy the superb three-course meal in the company of Liz Saint John, a 28-year veteran of CBS Radio who sat to my right. We talked about media, the evolution of broadcast. She explained to me how these days she has to do it all: broadcast, edit, market, etc.
Another highlight was the feisty and talented dude you see in this video dancing and trumpeting up a storm. Talk about camera ready! As soon as I entered AT&T Park with my camera he two-stepped, shimmied and shuffled his way right up to my lens. I shot him doing his thing. Then, el pronto, he handed me a business card "Gabriel Angelo" (gabrielangelotrumpet.blogspot.com) and said "Send me a final cut of that video when you're done." What a pro.
As always, Loni puts her spin on the proceedings.
WATCH: Heroes & Hearts – AT&T Park San Francisco
PHOTO GALLERY: Heroes & Hearts Luncheon