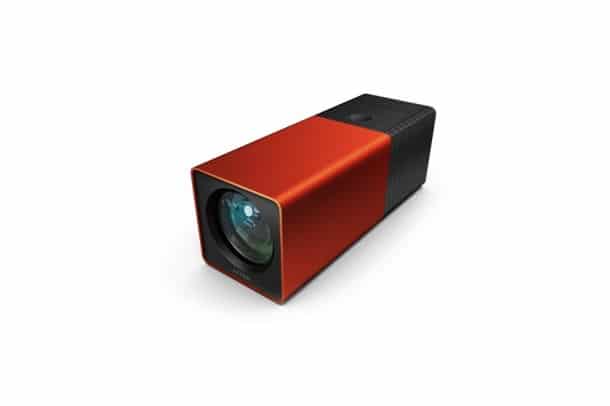 Has the future of photography forever changed?
The embargo has ended and the reviews are pouring in for the new, ground-breaking Lytro camera ($399 8GB, $499 16GB).  Hit the jump for the highlights.
Thanks to light field technology ("the amount of light traveling in every direction through every point in space" ), images can be edited afterward to alter the focus and perspective and even make a two-dimensional picture 3D. For now, the feature is limited to photos, but future models could bring similar results to video (but would likely require more processing power).
F-stop… what?!
Minimalists, this one's for you: In an era of complicated DSLRs, the Lytro features — despite all that whiz-bang computational photography tech —  just one button.
One of the most hotly anticipated gadgets of the year (outside of the Apple iPad 3 of course!), the reviews are overwhelmingly positive. Out-and-out glowing in fact.
The Verge: You've never seen a camera like this before
That's what the Verge has to say in their review. "There's no doubt in my mind that Light Field cameras are the future of photography, or at least part of the future."
BUT
"the first iteration of the Lytro isn't quite there yet: it's hard to use, its display is terrible, and outside of a few particular situations its photos aren't good enough to even be worth saving. It's not even close to being able to replace an everyday camera, and at $399-$499, for most people it would have to."
Popular Science: A one-trick pony
From PopSci: "We'd love to be able to say that the final images it creates are flawless, but that's sadly not the case; in low-light there's a noticeable amount of noise–especially at high ISOs. Image blur is a real issue, as well; the slightest shake of the hand or sudden movement from the subject renders shots irretrievably blurry."
[PopSci]
Mashable, not surprisingly calls Lytro "The Most Social Camera Ever Made"
"It's true that the Lytro requires a different way of thinking about your photos. Fortunately, camera phones have been getting people to think less about focus and more about sharing for years. While the choice to target only Mac users right out of the gate is a bit perplexing, emphasizing sharing via Facebook is an excellent, if not essential move."
[Mashable]
And…
The New York Times simply concludes:
"For now, I tip my hat to the innovators at Lytro, but I'm not opening my wallet."
[NYT]