After using Cloudability, a service that tracks cloud expenses ("Mint for the Cloud"), for about 30 days here's my initial impressions.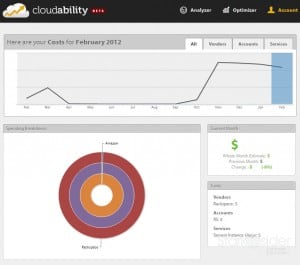 I'm a huge proponent of the cloud. A marketing cloud can help to grow your business very rapidly. Without it, something like Stark Insider could not exist, or grow as it has over the past years. "Cloud," I realize, is partly a marketing term. It embodies everything we've known in the computer industry over the past several decades. There's a dash of client/server, thin computing, remote management, with a sprinkling of security, storage, analytics. At its heart is a massive abundance of processing power previously unavailable to smaller operations such as ours.
Then there's the business model. And this is what I truly appreciate about cloud-based servers: You pay for what you use – utility computing as its widely know.
But here's my problem
Pay as you go is a boon for us. However, it's not all peachy. There's two sides to this coin. On the one hand you don't overpay (generally) for unneeded amounts of servers, infrastructure needed to run your business. But you need to be careful. As I've learned, expenses can spiral out of control. By my last count, for our flagship Stark Insider and our other web sites (niche sites such as Discover Loreto, BajaLux, ClubLoretoBay) we use well over twenty different cloud services including Amazon Web Services (AWS), Rackspace, Media Temple (maybe stretching definition here as MT doesn't quite offer cloud-based pricing models last I checked), Cloudflare, not to mention other tools that are helpful (and free) such as Dlvr.it, Google Webmaster Tools, TweetDeck, Hootsuite, and on and on.
Last year we went on a painfully extensive re-engineering of our infrastructure. It took months. But now we can scale elastically with traffic, which really helps with some of the spikes we get (when writing about Android of course). We're not the largest site by a long shot. Nevertheless I told the team to over-engineer the thing so we could grow without having to do deep tech dives and assessments every quarter.
Tracking all this stuff is an increasingly onerous task.
I'm most interested in ensuring our costs stay on track- that I don't wake up to a four digit web host bill, or some other expense that crept in  previously unnoticed.
Enter Cloudability
I've been using Cloudability (based in "cloudy Portland, Oregon") for about a month. Think of it as Mint for the Cloud.
The premise is simple: control and monitor your cloud expenses.
So far, I'm impressed, even though this is a beta. Whereas in the past I felt like I was stumbling amidst fog, I now clearly understand where we are against our budget for a given month. It's not rocket science. Simplicity and transparency, though, make my day in this case. The daily emails are particularly helpful, as are the alerts that tell me when I'm over budget on a particular service.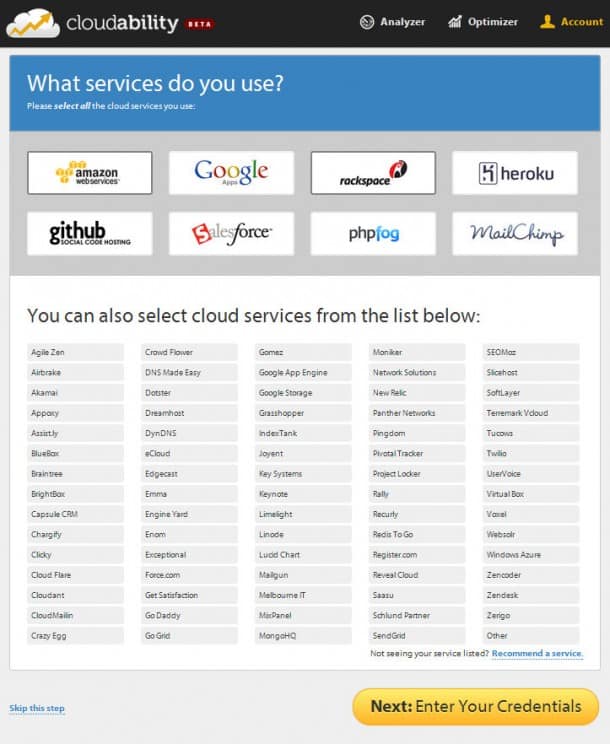 By my rough count, Cloudability supports over 70 web services. The big guys are there like AWS, Rackspace, GoDaddy, Google Apps,  and Salesforce. But you'll also find an impressive list of smaller players like Cloudflare (awesome), DynDNS (awesome), and Clicky (awesome).
Mint for the Cloud
The service aggregates all your billing info into a simple Mint-like dashboard with trends, monthly spending snapshots. An optimize function is coming soon. That could be very helpful in pointing out ways to cut costs. I haven't seen it yet, but it could make cross-shopping vendors, who often have confusing, varied pricing models, a simpler process.
Monthly pricing is indexed to your cloud spend. Under $2.5K/month free – then various tiers, from $49/month ($10K spend) up to $299/mo ($50K).
Do they cover my "*aas"? So far, yes. One to watch.