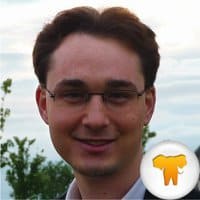 Are social networks going to replace email? How can I make my email communications more effective? And spam-o-rama: is there a way to help cut through all the noise?
These are just a few of the topics I explore in another 5 Questions, our ongoing look at new technology, innovative thinkers and leaders, and start-ups. This time I'm joined by Benjamin F. Wirtz, the CEO of Handy Elephant; a guy, which should be noted, that can stuff a Samsung Galaxy Tab into his jean pockets.
If you're like me, you're probably feeling the squeeze. Twitter, Facebook, Tumblr, Gmail, Path, and now Pinterest – so much information is coming at us, I'm always on the lookout for ways to help manage the overload. Hopefully you'll find a tip here or there in our conversation to help you be more productive.
Stark Insider: A lot of people suggest social networking will takeover and that email won't be necessary. Is that true?
Benjamin Wirtz: Social Networking has already taken over our personal lives – many of us spend more time engaging with friends and relatives on social networks than we spend writing emails with them. However, each way we communicate has advantages and disadvantages, and which one we use depends on the purpose of the communication – the different channels are just different tools.
Right, right…exactly! I've always suspected it wouldn't make much send a corporate marketing budget to my boss over Facebook! 
Yes, emails can often be more formal and discrete than interactions on social networks, so especially in the corporate world, we will still see email being used for quite some time. However, we see more companies who want to get rid of email traffic – at least internally, where more efficient communication can be achieved by having less formal communication processes and using social network style systems.
SI: What are 3 things people can do right now to make their email quality time more productive?
BW: I think the most important one is keeping emails short and to the point. We see more and more people forcing a three sentence restriction on their own emails and trying to spread this to other people too (see https://three.sentenc.es). Often, three sentences is everything you need, but if we just start typing without thinking first, we don't just waste our time but also the time of the recipient who has to read through it. I would also limit the time you spend in your inbox. If you are not waiting for something extremely important, then checking your inbox three times per day should be enough. Interruption of incoming emails is one of the worst productivity killers, so turn off popups and notification sounds. Just make sure people know how to contact you if something is really urgent. Apart from that, thinking message-based about your communication workflow isn't getting you much further, we have to shift towards a more relationship-based approach.
SI: Your suggestion is interesting – almost as if we should adopt a Twitter-like mentality to email. What I like about Twitter is that it does force us to be concise, to cut to the chase. Okay, then, I didn't realize elephants could be handy. For some reason I always picture them in a room. Tell me about Handy Elephant, and what you see as the market opportunity.
BW: Handy Elephant is a productivity app for business professionals who suffer from communication – and relationship – overload. It's not just the amount of emails and Tweets and calls we have to deal with these days, but also an increasing number of people that we want to build relationships with. Handy Elephant helps users by tracking their communications and making sure they get in touch via right people at the right time and on the right channel. It's like a handy elephant's memory which remembers when and how your contacts prefer to be dealt with, so you catch them the way they listen to you.
We have seen this not only saving highly connected people like sales representatives and entrepreneurs a lot of time, but will also making them more effective and making more deals at the end of the day…
… investors and partners …
… Citrix has a similar vision with their GoToMeeting technology and other products, so for us it's great to have them on board as an investor through the Citrix Startup Accelerator.
SI: For now I understand you sit outside Gmail, my favorite web email service – when can we expect to see tighter integration?
BW: Very soon! We have gathered a lot of user feedback in the last couple of months, since we launched our stand-alone web application. It was meant to be a "Minimum Viable Product," which gives users a fresh perspective on their email communications, and we had a lot of suggestions in which direction we should move next. A tighter integration with not only Gmail, but also other communication tools and Customer Relationship Management apps like Salesforce is on our list, but maybe not in the way people will expect. We think that only dealing with individual communications – in whichever process you work – won't fix the problems that email overload is causing, so we will approach things more social, on a relationship level. We will share early progress of these integrations on our blog so we can continue the dialog with our users.
SI: Now, the most important question: Can Handy Elephant ensure emails from Mum don't get trapped in spam?!
BW: It can indeed – as Handy Elephant is relationship-based rather than message-based. All your communications with one contact are tracked under this contact rather than only an anonymous inbox. It's your choice to ignore contacts (you might not want to follow up with "My favourite Pizza takeaway" every week) or listen to them. We think the message-based approach worked well when people didn't receive too many of them, and most messages were from real people and easy to manage. These days, you can't win against email overload if you try to deal with your incoming messages one by one.
AND, because we like to mix some fun with our tech and gadgets the STARK 3… bonus round… rapid fire…
… Favorite Gadget and why?
Samsung Galaxy Tab. I was one of the few crazy people who actually used this 7″ tablet as a phone – it fits into my jeans pockets (yes, they are big) and is the perfect device for both calling, reading and demoing mobile apps.
… Favorite adult beverage… beer, wine, spirits… and ideal pairing?
Sambucca – goes best with people who don't like licorice ;)
… Memorable film you recently watched?
Memento (which is – funnily enough – about a guy who can't make new memories).