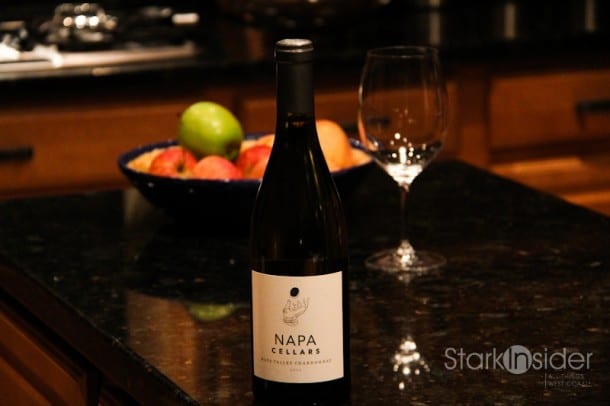 I'm on a real Chard kick these days. Don't ask me why; my wine tastes ebb and flow.
Vino biorhythms are unpredictable, and I reckon I'm not the only one enjoying where my palate will take me next. Whites chilling in the Team Stark sample pool are increasingly rare sights as they are among the first to disappear. Case in point is this through-and-through pure example from Napa Cellars.
Made from 100% Chardonnay grapes, this is a clean drinking, smooth example of what I'd frame as a casual, modern day Chardonnay. Oak takes a back seat, and, instead, acidicty and minerality drive the flavor profile. There's just enough tropical fruit notes, and – the old standby – toastiness, to balance things off nicely.
It's not an estate wine. According to winemaker Joe Shirley, the grapes are sourced from southern parts of Napa, including – one of my favorite AVAs – Carneros.
Perhaps accounting for that modern, less oaky profile is the fact that about one-quarter of the juice ferments in stainless barrels (while the rest sits in French oak).
Napa Cellars also makes a slightly more expensive Mt. Veeder reserve Chardonnay. I'd be curious to see how it compares. I generally think of that region as producing austere whites (some might say, with a wicked half-smile, "strident").
Well then, give 'er a go.
2010 Napa Cellars Chardonnay
Napa Valley
100% Chardonnay
35,000 cases
$22, 90 pts.
Verdict: well-priced, simple and classic Napa Chardonnay.
Pair with: anything but a NY Giants win.