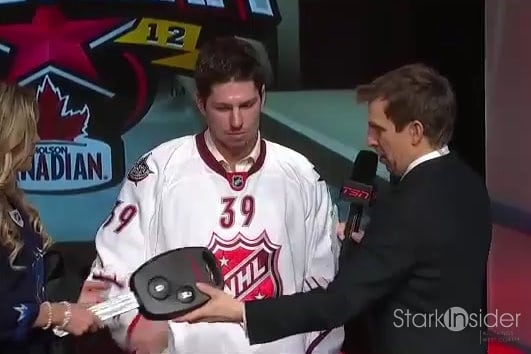 I have it on good authority that San Jose Sharks' forward Logan Couture plans to tweet while scoring a hat trick goal at the NHL all-star game.
Someone familiar with the situation said Logan was determined as ever to prove "Alfie" — Daniel Alfredsson, the caption of the team that chose him last in the fantasy draft — wrong.
The move is apparently inspired by Owen Nolan's 1997 famous hat trick when he pointed to the corner of the net before blasting the puck past netminder Dominic Hasek.
Long-time Sharks season ticket Murphy Gamble seems impressed. "It's the way forward," he says. "Anyone can point and score. But how many can actually Tweet while making a great play. I can't wait to see it!"
But some in Ottawa, host to Sunday's all-star game and where Canadian-born Couture (who has scored 4 more goals than Swedish-born Alfredsson this season) played junior hockey, seemed skeptical. "Twitter is for the cockamany," said Roy Tucker, 73, from Brockville.
Former prime minister Jean Chrétien said (as if almost impersonating Martin Short): "I'd rather stick my tongue on a pole in the dead of winter."
Stark Insider reached out to a league official who was also familiar with the situation. He said, "The NFL allows tweeting on the sidelines for its all-star game. But the NHL once again trumps all sports, with in-game line changes, and now in-game social networking. That's fan engagement for the 21st century!"
Brian Kilrea, who may or may not be aware of the situation, could not be reached for comment.
Car they gave Logan – Honda Crosstour (pre-pimp)
Car they should've given Logan – Acura NSX (pimp-o-matic)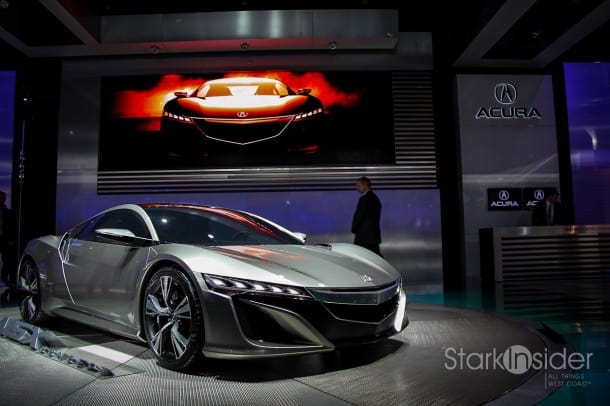 Speaking of new cars:
New car for the Father. What do you think? #sonoftheyear? https://yfrog.com/h374767054j

— Logan Couture (@Logancouture) June 1, 2011
Speaking of Ottawa and the Sharks/67s connection:
Old stomping grounds! Let's go 67s @Ottawa67sHockey yfrog.com/nutlxoij

— Logan Couture (@Logancouture) January 28, 2012
2012 NHL All-Star Results

TEAM CHARA

Assistant captain: F Joffrey Lupul, Toronto Maple Leafs

Round 1: F Pavel Datsyuk, Detroit Red Wings

Round 2: G Tim Thomas, Boston Bruins

Round 3: F Evgeni Malkin, Pittsburgh Penguins

Round 4: F Marian Hossa, Chicago Blackhawks

Round 5: D Kimmo Timonen, Philadelphia Flyers

Round 6: F Corey Perry, Anaheim Ducks

Round 7: G Carey Price, Montreal Canadiens

Round 8: F Phil Kessel, Toronto Maple Leafs

Round 9: D Ryan Suter, Nashville Predators

Round 10: G Jimmy Howard, Detroit Red Wings

Round 11: D Brian Campbell, Florida Panthers

Round 12: F Patrick Kane, Chicago Blackhawks

Round 13: D Dion Phaneuf, Toronto Maple Leafs

Round 14: F Jarome Iginla, Calgary Flames

Round 15: D Dennis Wideman, Washington Capitals

TEAM ALFREDSSON

Assistant captain: G Henrik Lundqvist, New York Rangers

Round 1: D Erik Karlsson, Ottawa Senators

Round 2: F Jason Spezza, Ottawa Senators

Round 3: G Jonathan Quick, Los Angeles Kings

Round 4: F Claude Giroux, Philadelphia Flyers

Round 5: D Kris Letang, Pittsburgh Penguins

Round 6: F Steven Stamkos, Tampa Bay Lightning

Round 7: G Brian Elliott, St. Louis Blues

Round 8: D Shea Weber, Nashville Predators

Round 9: F Daniel Sedin, Vancouver Canucks

Round 10: D Dan Girardi, New York Rangers

Round 11: D Keith Yandle, Phoenix Coyotes

Round 12: F Milan Michalek, Ottawa Senators

Round 13: F Henrik Sedin, Vancouver Canucks

Round 14: F James Neal, Pittsburgh Penguins

Round 15: D Alex Edler, Vancouver Canucks

Round 16: F John Tavares, New York Islanders

Round 17: F Scott Hartnell, Philadelphia Flyers

Round 18: F Jason Pominville, Buffalo Sabres

Round 19: F Logan Couture, San Jose Sharks
Owen Nolan Calls the Shot