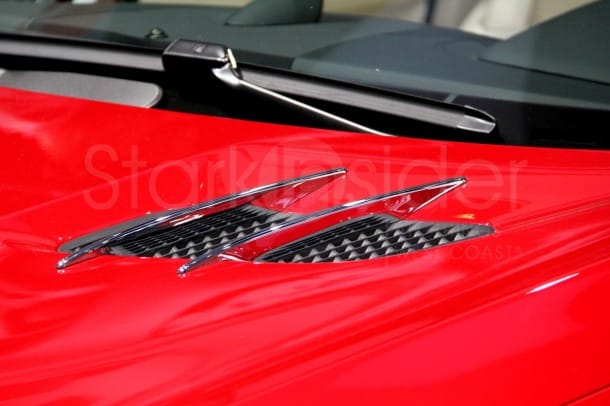 Venture Capitalists take note. Your updated ride is here. Mercedes-Benz tooks the wraps of its new flagship, the 2013 SL Class (starting at $113,000), now celebrating its 60th year. Horsepower is up (to 435-horsepower), as is fuel efficiency (to 14/22 mpg).
The two-seater SL has long been the luxo-sports coupe of choice for many of Silicon Valley's high profile personalities. Steve Jobs is probably the most well known of the lot, having long driven a plateless silver SL55 which could often be found in the nearest handicapped spot — it become a long-standing tradition to snag photos of it, as if it were some kind of long lost gazelle.
I'm not so sure Jobs would be convinced of the design aesthetic of the new SL. It's teutonic, yes. Most definitely chunky, and solid looking. But there are little accoutrements on virtually every surface. It's as if every designer that wanted their particular doo-da added to the body, were given the green light.
Then there's awkward front-end.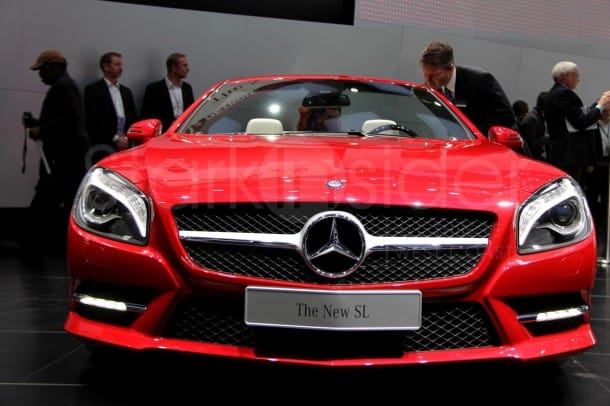 To these eyes, it's not in the least elegant (and that lackluster red paint job likely didn't help).
Whereas the outgoing model had a long, sleek hood, this '13 looks — once again thanks to a fondness for accents (and angles) of all kinds — like it could use some fine tuning. The headlights are almost sedan-like and certainly don't evoke the ooh-and-ahhs as do the sculpted, projector beam lenses seen in even the most basic of mid-level sedans. Standing back about 15 ft from the car, I circled it several times with the camera, but never found an angle that truly flattered the car. Overall, it seems like a step down-market. Where's the lust-worthiness that SLs of previous decades evoked?
Some wrote that at the launch today the old SL almost upstaged the new one. They were write, except for the "almost" part.
But I did like: Swanky booth and presentation replete with models in red dresses handing out flowers.