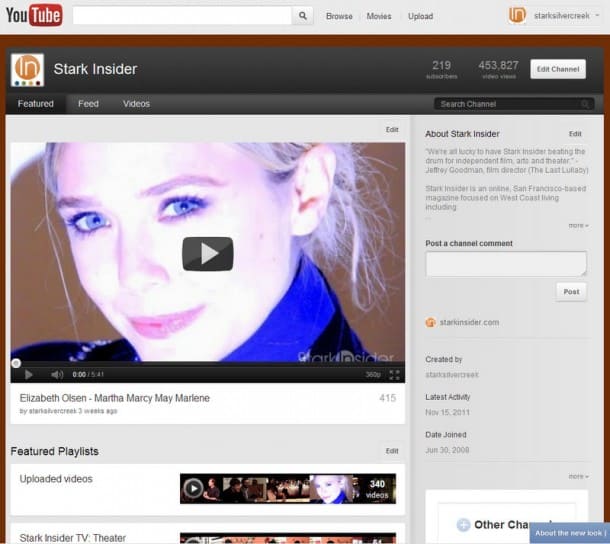 Google has rolled out a series of improvements to the YouTube site, and now Stark Insider TV looks as dashing as ever. There's quite a few aspects of this update I really like.
Design
First, and foremost, is Google's continuing effort to freshen its design motif: clean and functional are the order of the day, just as they are for design updates to Gmail, Reader and Analytics (Google+, with its red buttons and simple icons, appeared to be the first to show off the new design).
Everything from the channel layout and playlists, to video management and susbcriber information feels less cluttered. Also there ares some spiffy uses of greys and blacks that remind me of Adobe's Creative Suite (notably Premiere Pro).
Analytics
Second, I really appreciate the quick access to analytics (formerly insight) that allows me to see who is watching our videos. Especially interesting metric, aside from pure growth in views and subscribers, are referrals from related videos. For example, I can tell that recently 16 people who finished watching our interview with Christopher Titus about Neverlution (the precursor to Occupy Wall Street?), the #1 video on our channel with over 45,000 views, went on to watch a video about what really goes on behind the scenes at Disneyland (Working for the Mouse by Trevor Allen).
Also, by skimming through the data I can get a sense for the "shelf-life" of a particular video. Some of them burn slow and steady (e.g. Inside Quidam by Cirque du Soleil), while others spike initially and then fade as the event wraps (e.g. Napa Valley Film Festival) or the news becomes less relevant.
Emphasis on playlists
I also like the emphasis on playlists. This is important for us. Stark Insider is all about "adventurous living at the intersection of tech, the arts, and food & wine." I can tell you that's a busy intersection with a lot of topics in play. And not everyone necessarily cares about San Francisco Bay Area theater if they live, say, in Omaha. In that case they can dial in to our food and wine coverage, or some of our travel features. This allows us to offer viewers and readers content tailored to their interests. We've already been doing this for a while now, but YouTube is making it easier for publishers to showcase playlists and therefore potentially increase engagement with someone who randomly stumbles upon the channel.
Who moved my cheese?
As Facebook knows all too well, change doesn't always go over well. We get comfortable. We enjoy our happy place. Sure enough, legions of YouTube users were not impressed with the update. "Change it back" is a common cry heard across social networks everywhere. Time will tell if the changes are indeed an improvement we can all live with; I continue to dig deeper into all of the options, as well as survey our analytics from time to time (but don't make a regular habit of it- for the most part I'd rather produce more content, then look in the rear view mirror at what we've already published; plus I have a limited tolerance for the cringe-worthy!).
As a publisher, anything that simplifies our lives is a good thing. We (the royal We that includes all the contributors here on SI) spend so much time and energy on producing content, be it a photo gallery, an editorial, a review, or in this case, a video, I want to ensure it gets as much visibility as possible, and find it's way to the right people via the "pull" model. Those that know me well probably already know one of my favorite sayings: it takes a lot of hard work to make it look like we're not working hard.
Hint: for those who can't find the cheese, you can revert to the old YouTube design. Click "Edit Channel" then "Switch back to the old channels design."
Oh, yes… What is Stark Insider?
I'm glad you asked:
Thanks for visiting and all your support over the years. I'm really excited about all the things we have cooked up for 2012.
PS- fans of DSLR video: Join me in my video production adventure. I write about Canon EOS DSLR (Rebel T2i, EOS 60D) as well as gear such as the Zoom field recorders, shotgun mics, lenses, in addition to talking about Adobe Premiere Pro, tips for shooting video with a DSLR, and more. Click here to follow the adventure!
Stark Insider TV – Top 10 All-Time Episodes