Which car will take Car of the Year honors for 2011? We'll find out soon when we head up to Detroit to cover the North American International Auto Show. Meantime the finalists have been announced and include:
Ford Focus
Hyundai Elantra
VW Passat
An interesting short-list. We have an American, Korean and a German. Truly representative of the international aspect of the auto industry. Though one could wonder where the French are on this list. A full, and rational explanation on that oversight may require a Tweet to Jeremy Clarkson.
Ford Focus
I'm pleased to see Ford represented in the final three. Am I alone in thinking their designs are coming together nicely in the last few model years? Leading the charge is, of course, the Ford Focus. We first got a glimpse of the new, modern aesthetic when Daniel Craig as James Bond drove a Mk4 Mondeo rapidly in Casino Royale on his way to… a beach club. Though not a Focus, it did give us a hint in 2006 of what was to come: tight angles and corners, angular headlights, large rear lights, distinctive accent lines. Dare I suggest the front of the 2012 variant–which is now thankfully the same one that the rest of the world has been getting–looks slightly VW-ish?
If the design looks somewhat sporty foreign, that's because it is. The 2012 Focus was developed in Germany.
Available in no less than 7 models (and 7 optional packages), the Focus starts at only $16,500 for a sedan (5-speed with new 4-cylinder engine making 145hp). Aside from the base model, fuel mileage is an impressive 27/37.
Reviews have been overwhelmingly positive. The Car Connection awarded it "best car to buy" and bestowed praise: "The new Focus not only looks more flamboyant and sophisticated inside and out; it's also a more engaging drive than most other on-a-budget small sedans…"
I've yet to drive one, but based on the design, including the interior layout, I'd say Ford is definitely upped the bar in the compact segment.
Hyundai Elantra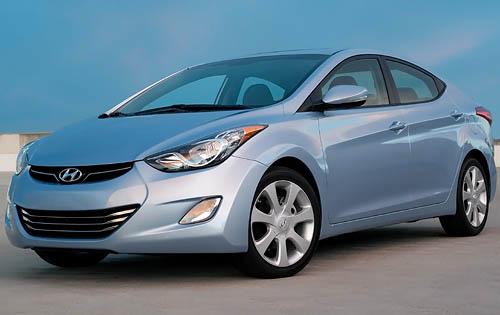 My experience with Hyundai is primarily based on an 80s Excel. To say it was "interesting" would be a mild understatement. Perhaps my parents bought the car thinking it was the perfect progression from an AMC Gremlin. You know, random delights like windows falling out of their frames, the gearbox falling to bits, and bonus floor board heating in the form of fires.
A lot has changed since then.
Hyundai is no longer a baby brand being tested in the Canadian market. The major proof point is the surprising flagship Genesis sedan. In a way its launch reminded me of what Lexus and Infiniti did in 1989 to the Germans and the full-size luxury car market with the LS 400 and Q45. It forever changed our expectations of quality, value and performance. Likewise with the Genesis. Only this time it's the Koreans taking it to the Japanese primarily.
Elantra, although now perched near the top of its class, took a slightly longer route. The original model did not do well, and carried on the tradition of the Excel when it came to quality (i.e. shoddy stuff). All that too has changed. Starting at only $15,195 (!) you get a swoopy sedan powered by a 148hp 4-cylinder engine with a respectable features list. I find myself doing double takes. This is a good looking car. Sure, it owes a thing or two to Lexus, but this is sharp, even finished in a blue (see photo above) that reminds me of the darling Excel.
VW Passat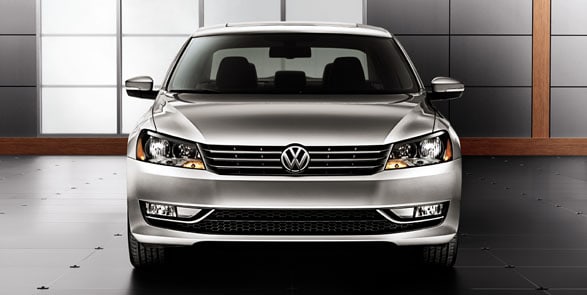 The enthusiast's choice.
Also starting under $20K is the storied Passat. Already a strong brand worldwide, VW thought a redesign was in order–it seems like 2012 is a major year for redesigns… perhaps it's the auto industry's last chance to get it right before the world ends? Motor Trend seems to think so, and chose it as their esteemed Car of the Year.
With a 2.5-liter, 170-hp engine, the Passat is no slouch when it comes to performance. A TDI clean diesel option bumps mileage from already decent 22/31 to a class-leading 31/43. Impressive for a non-hybrid.
My favorite option is the 9-speaker Fender audio system. Hi-fi on wheels.
Perhaps the best part of the Passat is that you know you're getting premium German design and engineering with many of the bits and pieces resembling higher end Audi (parent) models. Yet the pricing, albeit more than the Japanese and Korean offerings, is well within reach of mainstream buyers. It turns out you can have your cake and eat it too.
My Pick?
I really shouldn't play favorites. But if you simply must know. If I absolutely had to choose one, and I could not pick the new silver Prius in our garage (the new V was on the shortlist), I would go with the…
… Ford Focus.
Soon we'll find out if a jury–including Marty Padgett from the Car Connection–of 50 U.S. and Canadian automotive journalists agree. The winner will be announced at a press conference in Detroit next month.
Stay tuned as Team Stark heads to NAIAS: be sure to follow me us on Twitter (@clintonstark, @starkinsider) and like us over on Facebook to get all the photos, breaking news, and new model information.