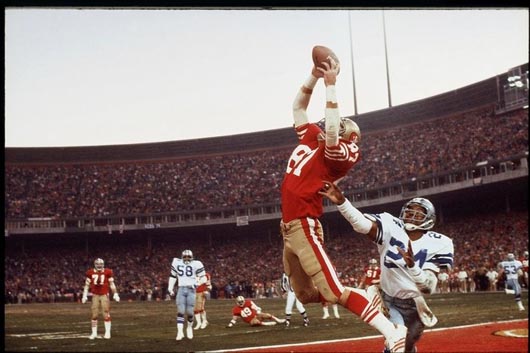 The Catch is one of the most famous sports photos in history. Joe Montana's game winning touchdown pass to soaring tight end Dwight Clark famously won the 1982 NFC Championship for the San Francisco 49ers (who would go on to win the Super Bowl) was caught in a remarkable photograph seen above (by Walter Iooss Jr. for Sports Illustrated).
It's a moment in time forever remembered.
And if the play was full of could-nots, would-nots, so too is this image that might have been channeled by the photography Gods themselves.
Thanks to an interesting analysis of the photo we can now understand why, from a technical perspective, that moment in time resonates so well, and has become one of Sports Illustrated's most endearing photos.
Paul Lukas at Uni Watch, a site focused on "the obsessive study of athletics aesthetics" (I never knew there was such a thing), has deconstructed the iconic image in exhausting detail with no less than 6 marked-up exhibits illustrating various technical points.
Lukas applies a series of benchmark tests including the Golden Ratio, and the Rule of Thirds. He writes, "I was completely blown away by the results."
For his full analysis, click here.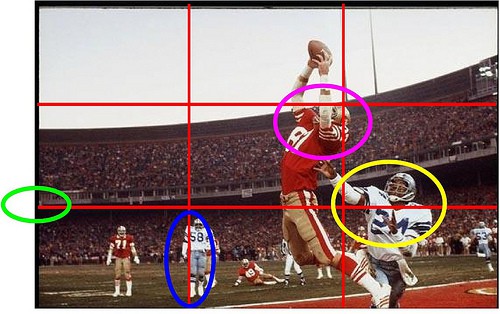 Perfection sometimes comes in the blink of an eye. While it would be impossible for Iooss Jr. to frame this photo in an instant–applying all the principles of framing and composition–his ability to be in the right place at the right time and his foresight to switch to a 50mm lens just in time, produced an image that still gives me goosebumps.
Moments like this sometimes remind us why sports bring vibrancy and meaning to our lives. Kudos to Lukas for sharing the intriguing results of his in-depth investigation.
[Uni Watch: Deconstructing the Catch]