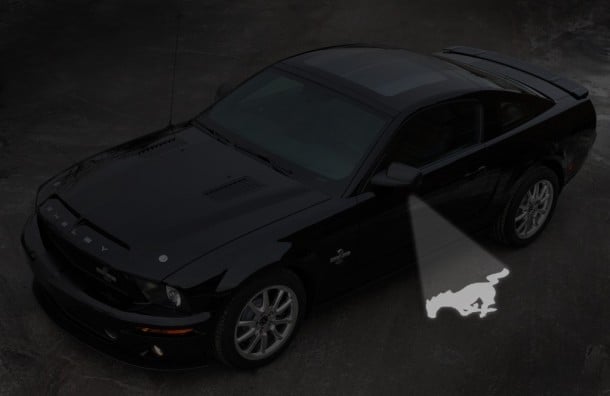 And you thought illuminated door sills were saucy?
Ford has taken the auto branding and accessorization game up a notch or two and introduced a bit of bling sure to turn heads. Engineers found a way to mount a tiny projector into the drivers side mirror of the 2013 Ford Mustang.  When the driver unlocks the door, the mustang logo–the iconic galloping horse–is beamed onto the nearby ground.
According to Autoblog, this "easter egg" as they refer to it, took several attempts before the Dearborn team were satisfied, achieving the effect you now see in the photo above.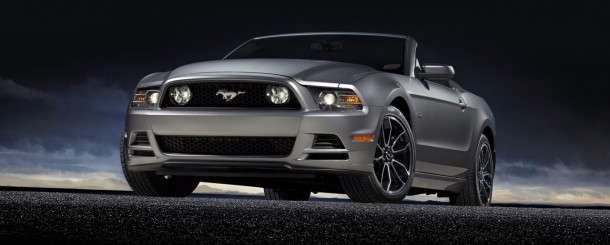 The 2013 refresh was unveiled at the LA Auto Show last month, and will hit dealerships early 2012.
Most prominent among the changes are a refreshed front end that features a more aggressive grill, front splitter, redesigned headlights, and functional heat extractors on the hood. Horsepower in the GT model which packs the much-loved 5.0-liter V8 has been bumped to 420 (from 412).
Car & Driver voted the car 10-best of 2011.
This year's sales edition of the pony-car race, however, belongs to the 'Stangs arch enemy. Year to date, 85,000 Chevrolet Camaros have been sold, compared to 65,000 Ford Mustangs. Chevy will launch ZL1 next year. Meanwhile we'll see if this projected mustang badge is enough to woo potential buyers in 2012.