Guest post by Pat Reardon.
You know that the holiday season is upon us when Starbucks starts pushing those seasonal hot drinks such as gingerbread and peppermint lattes. This is also the time of the year when the local theater groups parade out the standard holiday classics like "A Christmas Carol" or a stage rendition of "It's a Wonderful Life". Refreshingly, The Stage has spared us that standard fare by bringing back its own sweet frothy concoction of "Every Christmas Story Ever Told".
The evening starts with the usual Charles Dickens Christmas tableau where Will (Will Sringhorn Jr.) insists on serving up the classic "A Christmas Carol". This traditional approach to holiday entertainment is immediately torpedoed by Robert (Robert Parsons) and Martin (Martin Rojas-Dietrich) who claim that they absolutely refuse to perform the traditional holiday staple one more time, because "Its been done to death!". The evening goes on with Robert and Martin repeatedly pulling Will away from the tried-and-true Dickens to more frivolous and hilarious renderings of less luminous holiday stories.
Ok, so it isn't exactly every Christmas story told, but it does significant damage to "The Grinch that stole Christmas," "A Charlie Brown Christmas,"  "It's a Wonderful Life," "A Christmas Carol," and "Rudolf the Red Nosed Reindeer" along with many other treasured holiday staples.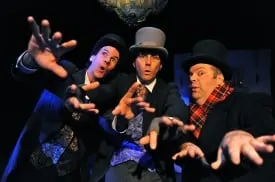 Although the first act slowed in parts in spite of some clever audience interaction, hang in there for the hysterical second act where the priceless Martin Rojas-Dietrich bounces dialogue back and forth between "A Christmas Carol" and "It's a Wonderful Life" like a hyperactive elf on a super caffeinated Christmas energy drink.
Will Springhorn Jr. plays the dogged and determined straight man to the talented Robert Parsons and the scene-stealing Martin Rojas-Dietrich. All three performers are excellent as they bring the minimalist set to life with their gut-busting riffs on the classic and not-so-classic Christmas treasures that we all know and love.
This hilarious family-friendly fun-filled evening is The Stage's Christmas gift to south bay audiences. Don't miss it.
Every Christmas Story Ever Told
The Stage
4 out of 5 stars
Directed by Randall King
Written by Michael Carleton, James FitzGerald and John K. Alvarez
Starring Robert Parsons, Martin Rojas-Dietrich and Will Springhorn Jr.
Runs through December 19, 2010