Christmas in the Bay Area officially began last night with the opening of a spectacular staging of A Christmas Carol at A.C.T. in San Francisco.
This annual tradition should not be missed. Even the most Scrooge-like of humbugs will come away with a wondrous grin. Perhaps the towering Christmas tree in Union Square is sprinkling magical elf dust onto the A.C.T. stage; or maybe the cold snap has transformed Geary into a wonderland. More likely, thanks to the creative force of Carey Perloff and director Domenique Lozano, the Dickens classic is catapulted into a whole new theatrical holiday dimension.
"The only thing more ridiculous than Christmas is falling in love."
The star, of course, is James Carpenter in his fourth performance as miserly Ebenezer Scrooge. The veteran actor anchors the show throughout, but never dominates at the expense of the cast around him. His voice, often Shakespearean in delivery, rises and falls as he reacts to childhood memories.
His Scrooge is thankfully far from unlikable, and his reactions to the cheerful, incessant caroling from school children outside his office window are priceless. Perfect comedic timing, and even dancing, if unwitting, are pleasant surprises. Carpenter has range. It's hard to imagine this stately Scrooge as The Creature just months earlier in a brilliant show at Black Box across town.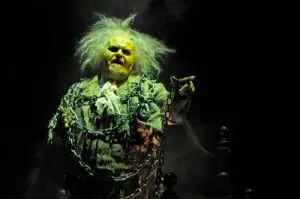 The house erupted when Jack Willis as the Ghost of Jacob Marley rises from the depths. Awash in green makeup and light, electric hair and rattling chains, he resembles a manic, oversized Beetlejuice extra. It sets the show off in gloriously entertaining style, never losing it for a moment.
Then dramatic effects sweep across the A.C.T. as Scrooge is visited in turn by the ghost of Christmas past, present and future. The stage explodes in color, texture: it's a feast for the eyes. Graveyards amidst fog. Bustling holiday streets lined with blue, almost Seuss-like homes. Daunting shadows. And layers of shimmering light and reflections. You'll want to soak in every visual moment.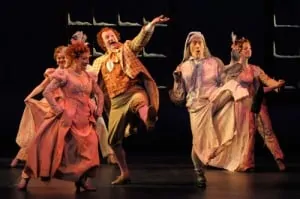 Costumes also impress. From Victorian dresses and suit jackets, to glittering and fantastical ghosts, spirits and vegetables. With an Alice in Wonderland nod, children dance as Spanish onions, French plums and Turkish figs to the wide-eyed amusement of Scrooge in "The Waltz of the Opulent Fruit."
"I'm a boy again!"
When Scrooge returns to his bedroom, a changed man, James Carpenter captures the jubilation and awakening with a riveting scene. He saunters around the room babbling like "a baby." Then dances, jigs adorned in a bright red scarf as the set again changes smoothly on the fly, taking us back to the town streets for celebration.
Artistic director Perloff say, "Dickens believed that triggering imagination is the key to triggering change in a person's heart… What an incredible endorsement of the power of art."
Indeed. Power of art. You can witness it firsthand at A.C.T.'s A Christmas Carol. Holiday traditions don't get any better.
A Christmas Carol
American Conservatory Theater (A.C.T.)
San Francisco
5 out of 5 stars
By Charles Dickens (1843)
Adapted by Carey Perloff and Paul Walsh (2005)
Music by Karl Lundeberg
Directed by Domenique Lozano
Based on the original direction by Carey Perloff
Choreography by Val Caniparoli
Musical direction by Laura Burton
Designed by John Arnone (scenic designer), Beaver Bauer (costume designer), Nancy Schertler (lighting designer), Jake Rodriguez (sound designer)
Starring James Carpenter as Scrooge
To December 27, 2009
Tickets $14-$102
Noteworthy

The young actors of A Christmas Carol are all students in A.C.T.'s acclaimed Young Conservatory.

I promised myself that I would try not to use certain words and expressions in this review. Amazing. Spectacular. Thrilling. Very. Great. Must-see. Smash hit… A Christmas Carol is all that and more. So, consider that promise broken—hopefully my last for 2009. But worth it.
Loni and I both felt the same sense of exhilaration we experienced after seeing Brief Encounter earlier this year. If at an amusement park, we'd immediately circle back and see it again… and again.
Nerves! At the opening night performance, the role of Bob Cratchit, usually played by Gregory Wallace, was played by understudy Kyle Schaefer. Shaefer is a member of the A.C.T. Master of Fine Arts Program class of 2010.
It was great to see so many children in the A.C.T.; it made for a rowdier night than usual, but it added electricity and excitement to the air.
The American Conservatory Theater opened as the Columbia Theatre in 1910 with George Ade's Father and Boys.
Two beloved film classics—Walt Disney's Fantasia and Orson Welle's Citizen Kane—had notable premieres at the theater.
A.C.T. celebrates its 100th birthday in January 2010; a free open house "A Landmark Celebration" takes place on Saturday, January 9, 2010.
Charles Dickens was the eldest son of a large middle class family; he experienced real poverty when his father was imprisoned for outstanding debts, and 12-year-old Charles was forced to leave his home.
Next up at A.C.T.: Phèdre, directed by Carey Perloff. A "smoldering tale of erotic obsession" – Backstage.com. January 15-February 7. It played at the Stratsford Shakespeare Festival in Ontario, Canada in 2009.