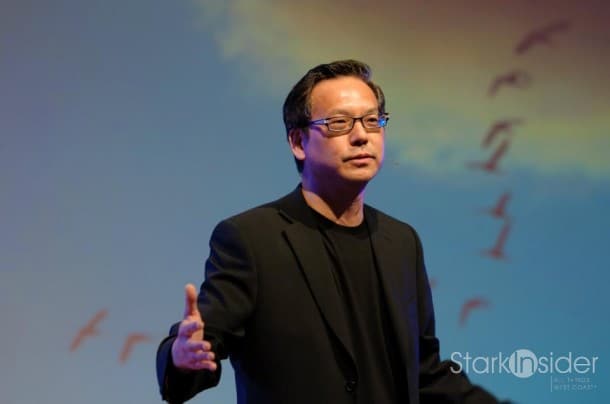 Welcome to another Stark Insider 5 Questions. Today's topic is one of our favorites: Leadership. We caught up with Eugene Lee, CEO of SocialText and friend of Team Stark to bring you the inside scoop on leadership lessons learned from musical ensembles.
Eugene recently returned from TEDx American Riviera where he presented on this very subject (see video below).
Stark Insider: You talk about how great things can be done in ensembles. What do you think we can learn about the connection between music and business?
Eugene Lee: When musicians try playing in ensembles for the first time, there are layers of discoveries and challenges that they go through which I think are directly analogous to what happens in the work environment.
First there's the technical issues of playing together (in time and in tune) – especially since almost all of the musicians only see their own part. This is similar to what happens when work teams first form – they have to work through the mechanical issues of how to run a meeting, how to communicate during and in between meetings, and how to stay in sync as they work in parallel.
In the tech sector specifically, it's often been said that the most innovative companies are born during recessions, and we've seen a lot of really creative stuff emerge since the crash in 2008.
Then there comes the stage of making MUSIC together (not just playing notes together) – dynamics (loud and soft), phrasing, expressive interpretation, etc. – which usually requires some discussion (and often debate) amongst the players about which parts of the music should be highlighted, which instrument should come to the forefront when – basically what their interpretation of the composer's intent is. This can sometimes put great relationship stress on the group depending on the interpersonal dynamics of the individuals, especially when the group is still in its early stage of cohesiveness. The parallels to group dynamics at work are obvious.
In my talk I talk about "Coaching to the Concept, not the Technique", where I use a video excerpt to show how differently an amateur piano trio plays when the coach gives them imagery to envision as opposed to mechanical directions like "play this note this way". I think there is an instructive analogy here for managers and leaders in providing guidance to work teams – too often overly-specific hands-on management can prevent a group from achieving cohesion, and instead drive each of the individuals back into their own technical excellence zones.
I could go on and on about these connections, but I'll save those for future talks and blog posts!
TEDx- Eugene Lee – Breathing Together – Leadership Lessons from Musical Ensembles
SI: What was it like growing up with a "Tiger Mom"?
EL: (OK, I have to be a little careful how I answer this, since my mom will probably end up reading this…)
I was always jealous of the rest of the kids in my neighborhood who got to play all day long during summer vacation, while I was trapped inside doing all the various homework I had to finish before being able to go out and play. Short answer – I hated it while I was young, but I grew to appreciate it when I was older. Longer answer – you'll have to buy me a couple of glasses of wine to tell you the whole story.
SI: As CEO of a Silicon Valley start-up you're no doubt under tremendous pressure to juggle a lot of interests–investors, employees, the executive team, partners, customers. What are one or two things you do that help keep priorities in order, and the company executing on the vision?
EL: I think the simplest thing to do is to try to align everyone's priorities around what's most important for the company and the business – which is always the customer in specific and the market in general. I believe that if everyone in the company aligns around that, then priorities generally become pretty clear without the need for top-down directive. Of course, longer-term vision and strategy usually requires anticipation and a certain amount of bet-making, and that needs to come from the top, so I also try to stay on top of trends, threats and opportunities, and make bets or adjustments accordingly.
SI: Michael Tilson Thomas, conductor for the San Francisco Symphony, figures significantly in your talk. And I know you've seen him perform numerous times. There are lots of accomplished conductors out there. What's the secret that has helped MTT achieve greatness, not to mention winning Grammys?
EL: [actually I don't know how to answer this question as I haven't yet had the chance to interview him … hint hint hint]
SI: Leadership in America: In crisis. Or beacon for hope?
EL: A little bit of both. I know that the recent past has been full of high-profile negative examples of leadership and that the news has been full of corruption, scandal, and greed, and I personally feel that a lot of the criticisms directed at those specific examples are warranted. On the other hand I think the vast majority of American companies have demonstrated a surprising amount of resilience and intestinal fortitude toughing it out through a long recession, and a lot of solid and quiet leadership has gotten them through tough times. In the tech sector specifically, it's often been said that the most innovative companies are born during recessions, and we've seen a lot of really creative stuff emerge since the crash in 2008. So on the whole I'm still super optimistic about American business, talent, creativity, and leadership.
SI: Okay. BONUS ROUND! … Rapid fire segment… Favorite wine?
Big cabs with red meat.
Favorite recent dining experience in the SF Bay Area?
Saison – went there last year for a special occasion, going back again tonight!
Favorite gadget?
My iPhone.
About Eugene Lee
Eugene Lee is the Chief Executive Officer and member of the Board of Directors at Socialtext. Lee oversees day-to-day management and operational control over all aspects of Socialtext's business, including driving product direction and development, strategic alliances, and scaling the sales, marketing and support organizations globally.
Eugene is also a Stark Insider contributor.