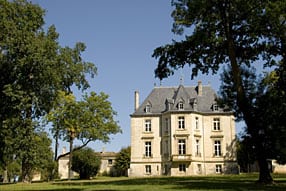 Here's a smooth, everyday Bordeaux from Chateau Malbec (acquired in 1991 by Castel Groupe), and at only $12.99 won't break the bank. Sure, it's not of the glorious, sophisticated upper tier variety, but — eh bien! — there's enough agreeable flavor profile to give it a recommendation.
Those that prefer their reds a little softer should appreciate the 12.5% alcohol level which results in a relaxed approach, and light finish. The producer suggests an aging window of 5-7 years, which based on the laid back tannin profile would seem to make sense.
Red berries on the palate, with hints of chocolate and vanilla through the finish. I'm not convinced this is one to pair with food- enjoy it on its own.
Chateau Malbec is located in the town of Sainte-Eulalie (commune) on the outskirts of Bordeaux. Per Wikipedia: Before 1789 this commune was in two parts: Garrigues and Sainte-Eulalie. During the French Revolution the two communes were combined and given the name Canteperdrix. In 1814 the combined commune was maintained under the name Garrigues-et-Sainte Eulalie, and on 16 February 1976 the current hyphenated form was adopted.
2006 Cheateau Malbec Bordeaux
12.5% alc.
86 points, $12.99