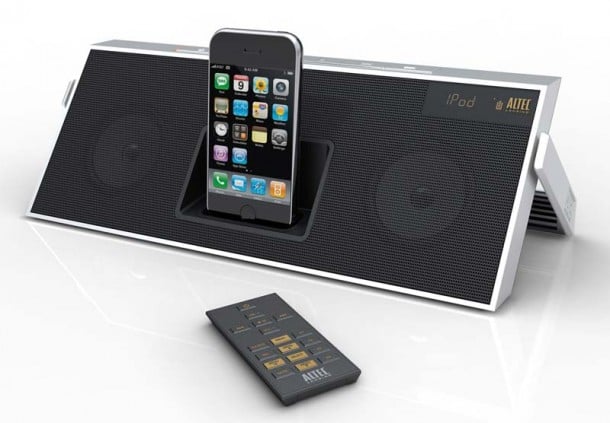 "Classic" for good reason: Altec Lansing's InMotion speaker dock, compatible with iPod, iPhone (and also with other MP3 players via a 3.5mm plug), brings just about everything I need in a portable rig – starting with the sound, which is surprisingly rich and well-defined for its size (13″ x 6″ x 2″). You won't confuse this for a home stereo system, but the two 3-inch speakers performed well across all of my listening tests. Nirvana's "Lithium" will challenge even the best audio configurations. Here the InMotion impressively provided clear separation between the bass/drum line and the glorious guitar riffs. On the other end of the spectrum, Carmen "Bizet" proved the small speaker was also quite capable of crisp classical. If you push it to 11, however, you may get some distortion, but this is forgivable considering the unit's ability to pump out satisfying amounts of volume; you'll likely rarely need to take it to the limit.
One advantage the InMotion Classic has over others in its class, it the rechargeable battery. I found this to be a really convenient feature. For short jaunts where you have no power, or simply when you want to carry the dock to another room in the house, the speaker will continue to play, using the built-in battery.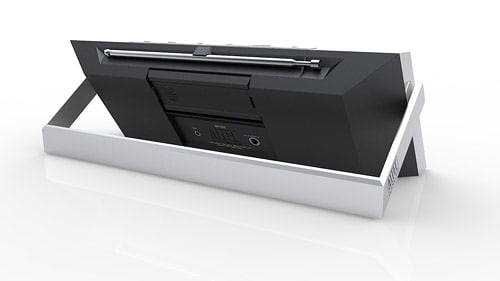 Design-wise, a handle runs the length of the dock. Rotate it, and it becomes a kick-stand. A small LCD display on the top right indicates mode (iPod, Aux, FM), volume level, and battery charge. An included remote provides control of an iPhone/iPod and volume. Altec Lansing designers did well to include a small compartment in the rear that stores the remote, perhaps (perhaps!) eliminating the chance of it getting lost. I could do away with the FM capability. The antenna looks somewhat old school – in a good or bad way, a matter of personal preference. However, news and sports junkies will no doubt appreciate its inclusion.
I had no complaints with overall built quality which appears robust enough to withstand daily use, and travel.
Likely competitors include the JBL On Stage IIIP speaker dock which is another strong player in this segment. Most are split when it comes down to choosing between the two. Although I have not tested the two units back-to-back, I'd suggest it's a toss up, really, with perhaps a slight edge to JBL in quality of the highs, and to the Altec Lansing for features (rechargeable battery foremost).
Then there's price. At only $49.99 (try Amazon) the InMotion iMT620 should definitely warrant strong consideration if you're looking for a small portable package with plenty of crowd-pleasing performance.
Altec Lansing iMT620 inMotion Classic Portable iPod Dock with Rechargeable Battery and FM Tuner
4.5 out of 5 stars
$49.99
Good: Price, convenience of rechargeable battery, built quality, sound quality.
Bad: Minor distortion when pushed to the very limit (which is loud!).
Bottom line: Worthy of your short-list.