Janice's Girlfriend Getaway (special "Gourmet" edition!) continues in greater Phoenix. Also don't miss the rest of the adventure: Part 1, Part 2.
LOVE to sleep in: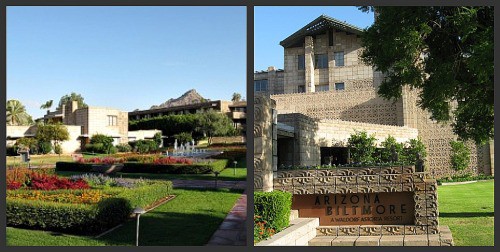 Arizona Biltmore Resort & Spa
Although the Biltmore spent millions recently on updated renovations, the place still exudes plenty of glamour from the bygone days when Clark Gable, Marilyn Monroe, Frank Sinatra and Sammy Davis Jr. could be found partying around the pool or exploring the 39 acres of grounds dotted with sculptures, fountains and colorful gardens. The Frank Lloyd Wright inspired architecture of this "Jewel of the Desert" is as timely now as when it opened in 1929. The latest addition is the Ocatilla, a boutique hotel-within-the-hotel, which offers 120 beautifully appointed rooms loaded with special amenities that make it a top girlfriend pick, a top-notch concierge service, complete privacy from the main hotel ground- including an exclusive pool, and an executive lounge offering complimentary refreshments throughout the day. A seat on Ocatilla's private patio, in front of the fire pit, sipping a glass of wine as you watch the desert sunset behind Squaw Peak sure doesn't suck!
Tip: Forget about those tired chocolates on your pillow…Ocatilla's executive lounge offers ten of the Bakers Best Bites for a tasty beddy-bye treat.
Sheraton Wild Horse Pass Resort & Spa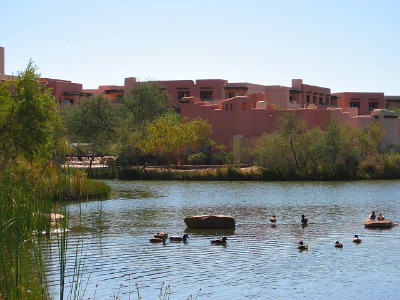 Located in the East Valley, on the Gila River Indian Community reservation, this hotel magically blends Native American architecture, history, culture, and art with luxurious lodging and unparalleled service. The tone is set when you're greeted by the amazing Ginger Sunbird Martin, Wild Horse Pass's "cultural concierge". Take one of her complimentary property tours to better appreciate the various crafts, photos and colorful ceiling murals that highlight the 2,300 year history of the native Pima and Maricopa tribes.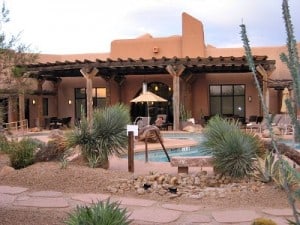 W.H.P is not only home to Arizona's most touted restaurant: Kai, but it's also "home" to many wild horses that roam the reservation. Book a ride at the on-site equestrian center to see them up close. Afterwards you can sooth those tired muscles at one of the four swimming pools (with cascading waterfalls) or book one of the many indigenous treatments, perhaps the Blue Coyote Wrap, at the tranquil Aji Spa. When you see photos such as the one where elder tribal women are teaching Kai's chefs how to make authentic Indian fry bread you'll realize that this is truly a unique hotel.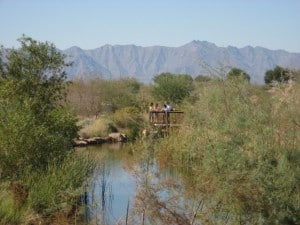 Tip: Work off dinner at Kai by exploring W.H.P's 2.5 mile interpretive trail walk. Ask the concierge for the even-I-can't-get-lost map. Lots of interesting signage explains the local flora and fauna.
Westin Kierland Resort & Spa Review
One $20 million facelift later, the Westin Kierland emerged with bigger and better event spaces, 732 spruced up guest rooms (best sleeps ever in their renowned Heavenly Bed), huge waterpark and tubing river, eight unique restaurants, luxe boutique shops, a wide array of holistic treatments at the sumptuous Agave Spa, and a new outdoor veranda overlooking the golf course, where you'll want to relax with a sunset cocktail as you enjoy the haunting sounds produced by their strolling Scottish bagpiper, Michael McClanthan. The "Kierland Piper" performs nightly in tribute the Scottish immigrants who worked on the Arizona railroad system.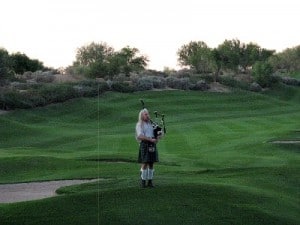 Tip: Another appreciative nod to the Scotts happens at the Saturday Night Scotch Tastings, where for $35 you can enjoy a guided tasting of the premium labels, food pairings and a hand-rolled cigar.
Details:
For help in planning your getaway: start at www.visitphoenix.com
When to go: Anytime works for me but you might want to mark your calendar for next February, when Arizona will celebrate its 100th birthday, which is one centennial hoop-la you don't want to miss.