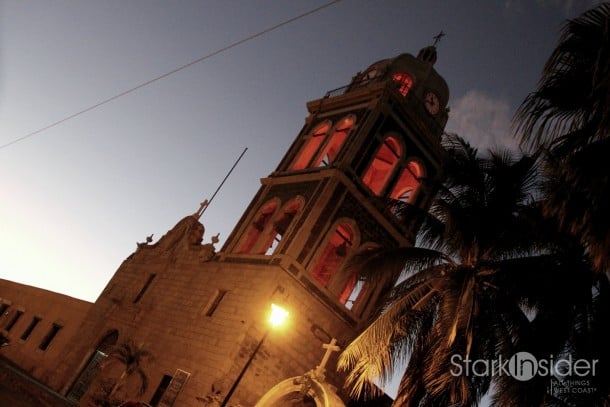 Cameras love the Baja. How photogenic is this place?! Every time I visit Loreto (and Loreto Bay), which is about three times annually, since our casa was finally completed. For a guy like me, who can't get enough of the DSLR revolution, it's a veritable potpourri of stunning landscapes, rainbow wheels of color, and mesmerizing skys.
On each visit I try to capture a different aspect of Baja California Sur.
Previously I've challenged myself to capture the people- candid shots of locals and gringos alike; the historic landmarks- there are so many like the iconic Lady of Loreto (Mision), San Javier Mission, cave paintings; the food- tacos pescados (does it get any better?), tortillas, mole. This time I realized I had lots (and I mean lots) of archived shots of Loreto by day, but not much by night. For the last 10 days I've taken the Canon EOS T2i with me (the 60D stays home, safe from the desert, dust) after dark to capture what I can.
I've also started (to try) to frame shots uniquely as I can. In the past I realize that I've been somewhat bland in that regard; squared shots with boring framing, and often violating the vaunted rule-of-thirds. I'm not about to declare victory still, not by a long shot. But at least now I'm frequently reminding myself to think creative when it comes to composition.
If Loreto is stunning by day, she's magnificent at dusk. I'm particularly amazed at the cloud formations. Drama takes many forms–plays, movies, books–but the sky alone here is a mini-series in the making. I've never seen such brilliant stars! The clarity and expanse must be seen to be believed. Of course, it helps when you have the glorious Sierra de la Giganta to the west, and the crystal blue Sea of Cortes opposite.
Here are 21 of my favorites, culled from over 700 shots on my MacBook Pro. Canon EOS Rebel T2i. Canon 18-200mm lens. I've also realized that I need to vary my lens; all of these were taken with the telephoto. I need to swap it out for the 50mm in the next few days.
Note: I also post photos on the Stark Insider Facebook page.