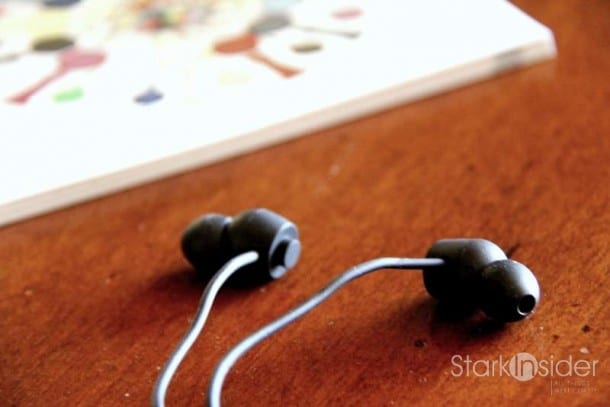 There are a lot of headphones out there, but when it comes to manufacturing high quality portables, Urbanears appears to be a notch or two above the competition. With the company's range, and color offerings you might even say they're the Abercrombie & Fitch of on-the-go kit – a good example are these Bagis headphones the company sent us to test. The Bagis is a compact in-ear offering from a line that includes over-the-ear portable (Tanto), full size on-ear (Plattan), two-piece earpiece (Medis).
Particularly striking is the monochromatic design. Color and aesthetics apparently matter to Urbanears, and in the age of premium Apple design we like that.
The specs are quite respectable: 9mm handmade drivers, freq. response 20Hz-20kHz, impedance 16  Ohm, sensitivity 107 dB with a maximum input power of 5mW. Those that like a full bass response with crisp highs will especially appreciate the wide frequency response.
Inside the box, which looks very much like an officially designed Apple accessory btw, you get the Bagis phones (with 3.5mm plug) which by my estimate has a 32-inch long extension from the split (nice!), three sleeves (s, m, l), and, a neutral stereo plug adapter.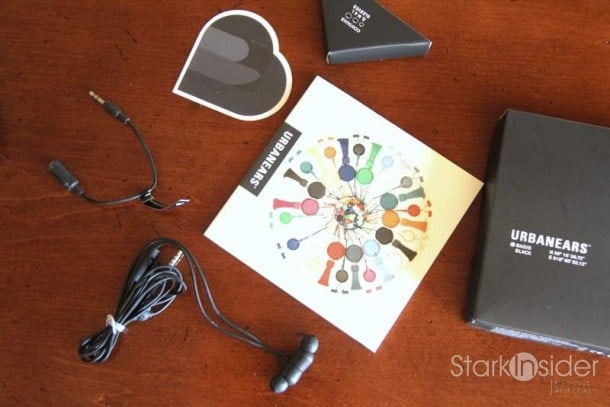 A great feature, and why I think the Bagis should be on your short list for portable headphones for your brand new iPhone 4GS (or iPad for that matter) is the built-in microphone. A small narrow tube hangs about mid-way on the left earpiece, and features an omnidirectional mic that can receive frequencies from 15Hz to 16Khz. In our testing it made for a perfect way to converse with Siri (note: according to the company, the mic is also compatible with HTC, Blackberry and others). Also, next to the mic is a small button that features as a remote: 1-click pause/play, 2-click forward, 3-click back.
One other design element worth pointing out is the tangle resistant fabric cord. Thank the Gods! My friends, this works as advertised, and once you've used headphones with this feature, there's no going back. Bonus: That fabric all but eliminates that noise you sometimes can get when shifting the cord. And did I mention: NO. MORE. TANGLES.
You can hang the buds around your neck when not in use thanks to its clever "snap construction." Another example of simple design decision, attention to detail.
Most importantly, how do these Urbanears sound?
Pretty sweet.
I listened through a bunch of my iTunes best. "Let's get down to business / I don't got not time to play around what is this?" "Business" by Eminem from The Eminem Show has a lot going on, and it came through with full Marshall impact. Fans of mega bass overload might like a little more on the low end. "Paradise City" by GNR packed punch. What happened to these guys…? Danger I guess does have a short shelf-life.
I'm not about to suggest you'd confuse these $30 buds with premium models cost 2x or 3x as much, but at this price point they're a sure bet for those looking for a solid sound, great build quality, and a sparring partner for Siri on a new iPhone 4S.
$29.99 (black) or $34.99 (14 colors). Recommended. Try Amazon.