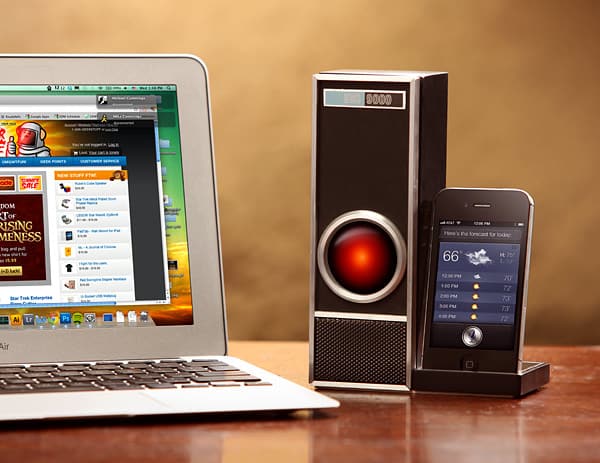 Sure Siri is fun, but how about from 50 feet away? And, oh yeah- haven't you always wanted to turn your iPhone 4S into Hal 9000? Well, now you can, and you won't even need to build a space station or bang away in eternal frustration on pod bay doors.
Well here's the scoop.
ThinkGeek is announcing today that it will release an accessory for the iPhone 4S that works with Siri, named Iris 9000- a voice control module for iPhone 4S & Siri that allows for you to control Siri from across the room.
Simply place your iPhone into the Iris 9000 cradle and use the included micro remote to trigger Siri from up to 50 feet away.
Just tap the Iris 9000 remote button once, listen for the Siri chime and speak your command or question. The built in mic on the Iris 9000 picks up your voice from across the room and the embedded speaker amplifies Siri's spoken responses.
You can also make and receive calls using the Iris 900 like a standard speakerphone. Oh, and the Iris 9000's glowing eye flickers along with Siri's voice!
The Iris 9000 will be available in Spring 2012 for $59.99 and the company has begun taking email requests today, which will alert those who sign up the moment the product is available for shipping.
Iris 9000
— Control your iPhone 4S and Siri from across the room
— Classic Sci-fi styling. Aluminum accents.
— Included micro remote triggers Siri with a single button press
— Built-in mic picks up your voice at a distance
— Embedded speaker amplifies Siri's responses
— Use as a standard speakerphone to make and receive calls
— Glowing LED eye flickers along with Siri's voice
— Powered by included 120-240V AC adapter
— ONLY COMPATIBLE WITH iPhone 4S
— Exclusive product designed and manufactured by ThinkGeek