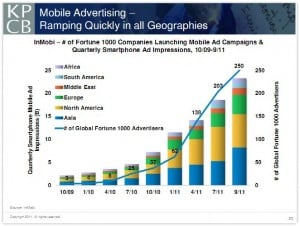 If you're looking for a data-driven synopsis of web 2.0 trends, look no further than Mary Meeker of Kleiner Perkins Caufield & Byers who presented for the 8th time just a few weeks ago at the Web 2.0 Summit here in San Francisco.
Once again she delivered a thorough, all-encompassing view of the industry and its major players – many of whom KPCB is an investor. I highly recommend you take 10 minutes or so to flip through the 66-slide presentation "Internet Trends" (see below) which reads like a greatest hits collection, citing sources from Gartner, ChangeWave, comScore and Morgan Stanley Research among others.
One thing I can appreciate is that Mary focuses on the what and leaves the why and what next to us. Although she organizers her thoughts around 11 themes — everything from "globality" (China!) and mobile (huge) to content creation (changed forever) and the economy ("often darkest before dawn") — it's for the start-ups, industry leaders, VCs, and technorati to figure out how to take advantage of these trends, or to position their company for growth.
Other information contained here will fall into the immediately obvious category such as Mary's descriptor of the not-so-great economic era we're all enjoying: "lots of uncertainty."
Also worth noting is the inclusion of local commerce as a category that has (perhaps single-handedly) rejuvenated mobile. No argument there really. However, Groupon's future may not be as bright as we once expected. Consumer's love affair with e-coupons for spas, tire changes and rock climbing might not be the most sustainable model ever invented. But, again, this is about the what.
Reviewing the data, I began to wonder: how does Microsoft feel about the State of the Web?
It surely can't be the warm and fuzzy.
From what I can surmise, just about every single trend and data point suggests an up-hill battle for the once titan of industry.
Is Microsoft Caught in the Headlights?
Mobile
In Q1 2010 the Windows OS fell to installation on less than 50% of installs of Internet-enabled devices (source: Gartner). Windows Phone 7 is too late. The windows has closed, and two horses lead: Google (Android) and Apple (iOS). Phone 7 gets accolades for its ease-of-use and slick look, but we all know that can only get you so far in this hyper-competitive market (see WebOS).
Tablets
Microsoft is completely MIA. Then again, so is everyone else, and the iPad = the tablet market, at least for now. That Microsoft should take so long to get to market with such an explosive, game-changing shift in computing upon us is simply astonishing.
Cloud
Yes, Office is on the cloud, but again it too was late opening the door to competitors like Google (Docs), and eventually another late entrant Apple with iCloud. The Cloud, at least in the consumer space, now belongs to Google, Amazon, Apple, and smaller focused players like Rackspace.
OS
The OS is dead. Long-live the OS! Micro-transactions are the order of the day (apps, movies, books, subscriptions) and the OS is re-emerging as a mobile do-all, lead by iOS and Android. The browser is where the majority of us spend time now… will Windows 8 be the least newsworthy OS launch by Redmond in its history?
Vision vs Execution
It's interesting that at the same time this report came out, a visionary video was making the rounds. It was made by Microsoft and billed by many as "stunning" and "groundbreaking." Well, sort of. These are what dreams are made of, and while I won't deny the importance of vision (it's essential – see RIM for cautionary tale of not having a cohesive one) nor that the video is awe-inspiring, I will say that Microsoft is not one for lack of plans. That incredible tablet? Coming soon. Windows Phone 7? It's going to be great… soon. Cloud strategy? It's here, just a few years too late. There are two issues with MSFT: (1) execution; and (2) innovation. This is a company that has DNA hard-wired to the 80s and is trying desperately to break free from its drag. Those skinny Duran leather ties be gone. Ballmer can jump up and down, but it doesn't change the fact that the once fast moving company (it did bring the GUI to the masses) is glacially slow, at least on the non-gaming side. If it weren't for XBOX, they could be pulling a RIM right about now. Who would've thunk? Microsoft, a gaming leader!
Fostering innovation
Make no mistake, Microsoft, with a market cap of $225B, is still a tech giant. And despite all the criticisms it and Ballmer have received, the company has not had to endure the messes that we now see at HP and RIM. Still, what were they thinking: Nokia?!
Being large and maintaining a mindset for innovation is not easy. It's monumentally complex, and it's too early to score Google and Facebook on that front; Amazon may well be the textbook case study when it comes to managing growth, customer loyalty and new production introductions. Meanwhile, Microsoft needs to find a way to break through the bureaucracy that is surely cripplingly the company internally.
KPCB Internet Trends (2011)