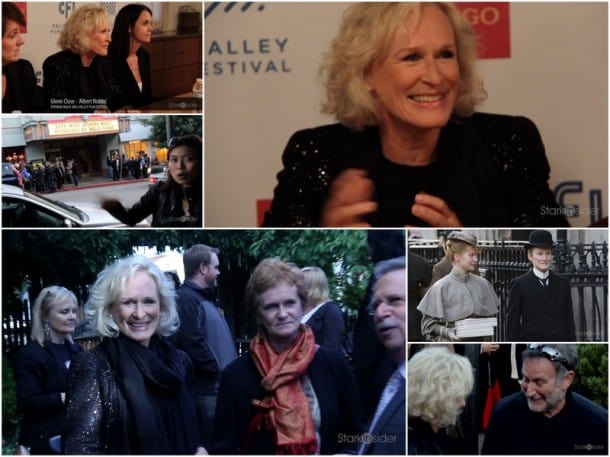 "Independent film is a movie that almost doesn't get made."
That's Glenn Close referring to some of the trials and tribulations of getting her latest film, the period piece with a twist Albert Nobbs, produced. It opened the Mill Valley Film Festival last night. The film was co-written, co-produced and stars Close, who adapted a play that she performed in the 1980s. It was almost turned into a film ten years ago, and — yes, it almost didn't get made — finally, with the help of some private equity (and Roadside Attractions) has found its way to the big screen.
I confess, though, I do prefer the Fatal Attraction version of this legendary actress; well… sans bunny boiler.
In Nobbs she plays a man so well, so convincingly that it's at times hard to imagine this is Glenn Close. I could see why the film was a "hard sell" for the Hollywood studios. It's unlikely to give the Avatars or Toy Storys of the world a run for the money anytime soon. And, of course, that would be way off the mark anyways. This is a character study. Directed by Rodgrigo Garcia who was also in attendance, it's as gorgeous as it is bleak. It's fair to say it's very unusual and possibly unlike any other period piece you're likely to see.
Her secret for looking like a man?
"This represents special effects makeup at its most refined," says Close. "What happens to a woman's face if she's lived the life of a man?"
Also, she notes, that she had kept the face of an Albanian woman she had spotted in an issue of National Geographic in mind. Indeed, when you watch her performance, walking the streets of Ireland, you'll see how she channels these images on screen. It's an astounding performance. Zoe Elton, Director of Programming at The Mill Valley Film Festival, calls it "seminal."
Here's the video segment of Glenn Close talking about Albert Nobbs with producers Bonnie Curtis and Julie Lynn. Also making appearances: Mark Fishkin (MVFF), Zoe Elton (MVFF), Robin Williams the wacky-fun Duplass brothers (co-directors of Jeff Who Lives at Home, the other opening night film).
Stark Insider TV – Glenn Close