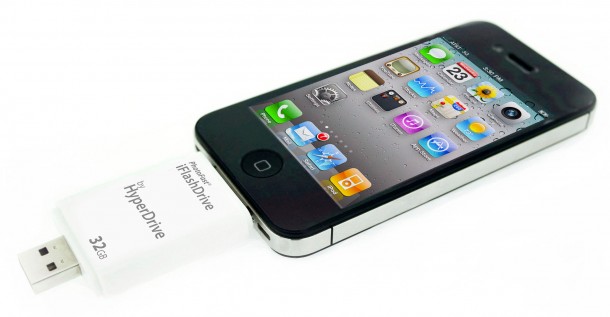 Here's an idea for the memory starved. This HyperDrive iFlashDrive (yes, the i's have it) looks like any other USB flash drive except for one thing: it has a 30-pin dock connector on the opposite side compatible with your iDevice of choice be it an iPhone, iPad or iPod.
Available in 8GB 16GB, 32GB models, it supports two way transfer. A free app is available on iTunes allow allow iDevices to perform file management with the iFlashDrive.
I'm not about to stick my neck out there and say this little pedestrian guy will win a beauty contest any time soon, but then again if you're all about function and form then you might not really care about gloss in this case.
Price?
Well, that might be a tough sell. But since you asked: $99 (8GB) / $149 (16GB) / $199 (32 GB).
For streamers that's likely highway robbery. For downloaders that's a quick way out of a memory jam.
HyperDrive iFlashDrive

Specifications

Capacity: 8GB, 16GB and 32GB
Dimensions: 2.66″ x 1.39″ x 0.41″ / 67.5 x 35.4 x 10.4 mm
Weight: 0.71oz / 20g
Compatibility: iOS 4 / iOS 5 / Windows XP / Windows 7 / OS X
Supported iDevices:
iPhone 4S, iPhone 4, iPad 2, iPad, iPod touch 4G (requires iOS 4 & above)
iPhone 3GS, iPod touch 3G (requires iOS 5)
File types that can be opened by iFlashDrive app:
Video: M4V, MP4, MPV
Photo: JPG, PNG, GIF, TIFF, BMP, CUR, ICO, XBM
Music: MP3, M4A, AAC, AIF, AIFF, CAF, WAV
Documents: Pages, Keynotes, Numbers, PDF, TXT, RTF, RTFD, DOC, XLS, PPT, DOCS, XLSX, PPTX, HTML, VCF
System Requirements: Free companion app downloadable from Apple App Store
Transfer Speed: 10MB/s for USB, 100KB/s at iDevice side (due to limitation by Apple's transfer protocol)