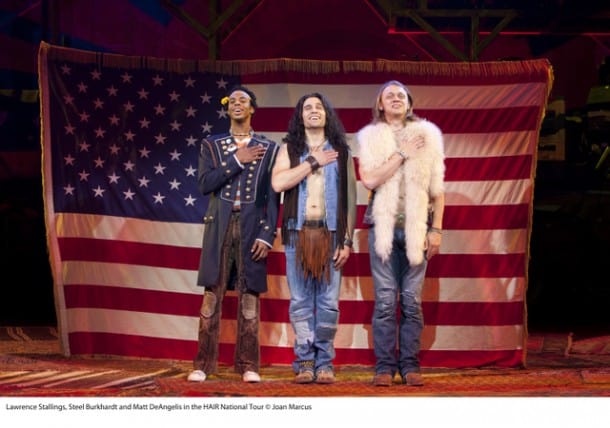 Lay, don't slay, brother. Hippie counter-culture feels right at home in the Golden Gate Theatre, sitting on the edge of the Tenderloin, and just minutes away from Haight-Ashbury — and, it should be noted, just one bridge away from the Occupy Oakland movement. So it was no wonder the crowd was pumped for the opening of the rock musical Hair. Despite its NYC setting, if this rock musical revival belongs anywhere it's right here at the intersection of peace and love.
Surprisingly what followed was somewhat flat and underwhelming. And by the end of the evening I wondered if the age of Aquarius should really be left in a bottle. There is decent singing, energetic performances – particularly in the two male leads, Steel Burkhardt as tribe leader Berger and Paris Remillard as Claude. The band does some great work here as well. But on this evening I felt the material was marginal, even if the on-stage "party" at the end of the show was groovy.
The show starts strong with the iconic "Aquarius"; psychedelic colors and costumes flood the stage as the entire cast takes to the stage. Political anxiety combined with ample amounts of Mary Jane, and other mind altering substances create, of course, one of the most famous cultural eras of modern time. We meet the "tribe" which is a diverse lot, including a political activist, a NYU student, a high school slacker, and at least one psychedelic teddy bear.
 "Do whatever you want, just so long as you don't hurt anyone."
How interesting that the cycle renews. Many of the themes — identity, freedom, rebellion — are dominating today's headlines as the economy continues to struggle. Hair, though, has not aged well. It's a one trick pony, and all of the devices (breaking the fourth wall), pumping up the audience (impressive, though, how the performers make their way across the seats!), and full-frontal nudity (entire cast) don't feel as fresh as I'm guessing they did in 1967.
In particular, we are constantly encouraged to clap along, to celebrate with the cast. No wall "flower" I gladly played along, but after the third or fourth time it wears thin- I'd prefer to watch the performers. It's like using too many exclamation marks or writing in boldface. It doesn't hide the fact that what we're watching is kind of not working. On this account I may well be in the minority. Many were singing, bobbing their heads and soaking in the nostalgic trip.
"I saw God and she's black."
Part of the problem is that we've seen modernized, successful  interpretations of the rebellious musical, notably Spring Awakening (stunning choreography) and American Idiot (epic music). No doubt they owe a lot to Hair, but they've advanced the genre so convincingly it's hard to go back to a spectacle less sharp.
Hair

2.5 out of 5 stars

Golden Gate Theatre, San Francisco
Book & Lyrics by Gerome Tagni and James Rado
Music by Galt MacDermot
Through November 20, 2011
[Photos: Joan Marcus]