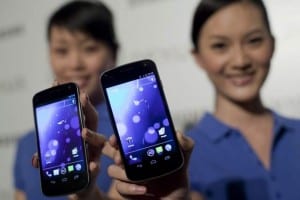 Call me a flip-flopper. First I was set on the RAZR, then I changed my mind and decided to wait for the Galaxy Nexus (which will arrive in November – exact US date not yet announced – in Europe it arrives 11/17), primarily because it comes loaded with the latest Android OS, Ice Cream Sandwich.
But then I saw the oh-so-thin pics of the RAZR and the plan to replace my aging, but trusty, Moto Droid was upended yet again. And so it goes.
Maybe it's like the Price is Right, and I'm passing until the best showcase arrives. But we know what happens to those contestants.
So I did not pre-order a RAZR. But the early reviews for the Nexus aren't exactly falling over themselves with praise. It's too early, sure, and the flagship phone from Samsung will no doubt impress, but I was expecting a little more euphoria. After all, if this phone (and the RAZR) are to have any chance at stealing away iPhone 4s sales it's going to need to bring its "A" game.
The Inquirer ("unfair, unbalanced" – love it) has a short hands-on review. Regarding ICS they call it a successful blend of Gingerbread and Honeycomb. One change I really like: the hard buttons on the bottom of the phone ("back, menu, home, search" icons respectively on my original Droid) have been replaced with soft equivalents. This is a good decision. The buttons can be hidden, for example, while watching a video to utilize the large 4.65-inch display. Placement at the bottom is still not ideal though in my estimation at least- I'd prefer them to float on the sides somehow, they'd be easier to reach.
"Roboto," the new ICS typeface, it getting positive reaction and is reported to me much easier to read.
On the NFC-enabled Android beam feature: "The movement of content was pretty much instantaneous, which was impressive."
Slashgear has posted a video from the Hong Kong launch event featuring the Galaxy Nexus, and (oddly) the gigantic Galaxy Note (with tablet encroaching 5.3-inch display).
I should note that these aren't full-blown reviews, and most hands-on assessments at this point are based on limited hands-on time from the launch event. Still, the early verdict seems to be decent, but not mind-blowing. But is good enough, good enough?
Then there's the HTC Rezound. Decisions, decisions.
[Photo: Jerome Favre/Bloomberg]