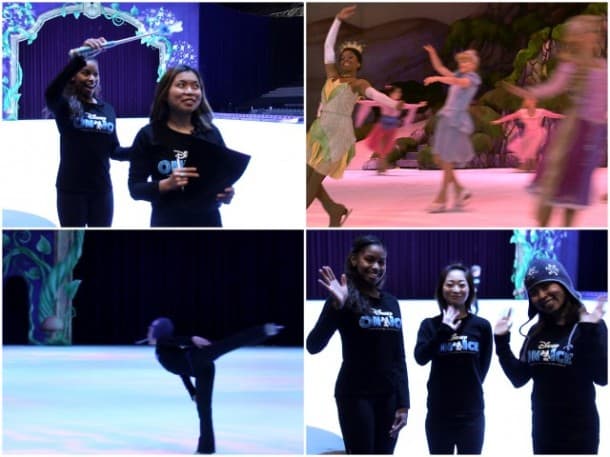 Here's something new for us here on Stark Insider. Loni goes behind-the-scenes at Disney on Ice and for the first time ever on camera attempts a 'Flying Camel.' Find out if a little Disney magic help her pull off the stunt!
This latest production, Treasure Trove, features Disney's first African-American princess: Princess Tiana. At HP Pavilion we catch up with Farryn Johnson (from Chicago) who started to skate at the age of 4 and plays the fun-loving character.
"My  mom and I were in a shopping mall, and there was a skating rink inside," she tells Loni as she recounts the beginning of a love affair with the ice and figure skating. "So she asked if I wanted to go for fun, and of course I said yes… and I've been with it since."
Also making an appearance in this Stark Insider TV segment is Sachie Yamaguchi. But I won't say anything more about her role in the making of this video. This is what happens when you have 2 princesses and… a little Loni, aka "the understudy."
Treasure on Ice — which plays San Jose over the weekend before continuing to tour the country — takes audiences "on a journey through their favorite stories from Disney animated characters."
Characters seen in the show include Captain Hook and his pirate pals with Peter Pan and the Lost Boys, Queen of Heart's Army of cards, Mickey Mouse and more. For the first time, the production is lead by two female producers, sisters Nicole Feld and Juliette Lewis.
Usually when I think of ice and HP Pavilion here in San Jose I think of the Sharks and NHL action. This time, though, I grabbed the trusty Canon EOS 60D and headed on location to see how Loni would fare on skates. This was an interesting proposition to say the least. Although originally from Shanghai, Loni grew up in Canada – but according to her spent most of her time in the library, and not so much time at the gym…
Loni attempts a FLYING CAMEL with the help of some Disney Magic
Support a Good Cause

Help One Child is a Los Altos-based non-profit organization serving foster children and their caregivers throughout the Bay Area. The mission of Help One Child is to fill the gap between what Social Services is able to provide despite massive state budget cuts and what is actually needed to raise a healthy, happy foster child. This October, the non-profit has teamed with Disney on Ice to collect and distribute new or gently-used costumes to help these kids celebrate a happier Halloween. Audience members that come to the Bay Area's Disney on Ice presents Treasure Trove shows in October are being asked to find those out-grown Cinderella dresses and pirate hats, and drop them off at either the arena or other locations. The program runs Oct 12 – 23 (while Disney on Ice is in town).