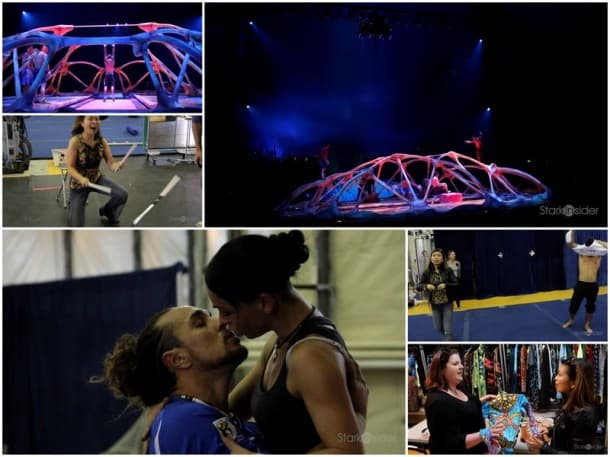 Here was the scene yesterday under "le grande chapiteau" next to AT&T Park.
Cirque is in town with their latest touring production, Totem, and I ventured into rehearsals armed with a Canon EOS 60D and a willing on-air host, aka the little Loni. These are the outtakes of some 25GB of footage we shot featuring some really amazing, up-close demonstrations of physicality and skill.
Some times I just like to cut a 60-second or so preview, without all the effects, backing tracks, etc. just to get a raw feel for it. Plus, in this preview I'm relying merely on the Rode Videomic shotgun mic, as syncing the separate audio (lavaliers) takes quite a bit of time in Premiere Pro.
The show opens Friday, and once again fans should expect an experience that only Cirque can provide.
If you've been to a show before — maybe OVO, Quidam, Mystere, O or another — then you know already to expect artistry, amazing human feats, and spectacular sound and sets. As you'll see in this clip, the set is quite interesting. It doesn't feature the huge cliff/drop that we saw in OVO, rather there is a cage-like array of handbars, trampolines. I expect this will factor into the story that is about mankind, and evolution.
Stark Insider TV Outtakes – Cirque du Soleil Totem
Loni was pleased to report that there was a lot of buff, half-naked men, as seen in this video (I have no idea about that). I could only find 1 woman, a sexy one on rollerskates at that! I tried to remain professional, diligent and shoot all that I saw, as I saw it. I try.
For now we leave you with this outtake reel. More to come soon. I look forward to your reaction about the show. Is it OVO without the insects? Or is more like a Quidam with lots of flying, and imaginative symbolism?