This is part 2 in Janice's east coast adventure in North Carolina. Also be sure to read more about her stops in Charlotte and Blowing Rock.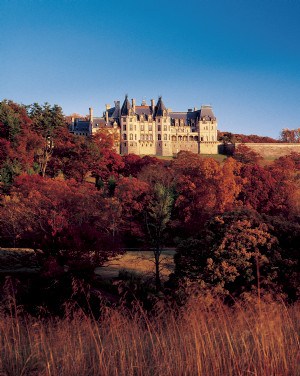 An easy-no-way-even-we-can–get-lost, two hour drive brought us to our next destination, Asheville. I had spent an overnight here earlier this year and immediately knew that I had to bring my mom and sis back to tour the incredible Biltmore Estate, a National Historic Landmark, consisting of  America's largest private home, gardens, an award-winning winery and a world-class luxury inn, which is where we stayed.
Built on 8,000 acres by George Vanderbilt in 1895, this magnificent 250-room, 16th century-style chateau feels surprisingly homey. As you wander through the home filled with priceless treasures (which George collected during his world travels) and listen to the audio tour (it's absolutely imperative that you spring for this since the stories really bring the house to life) it's easy imagine yourself as one of the many guests that the George and Edith Vanderbilt entertained over the years.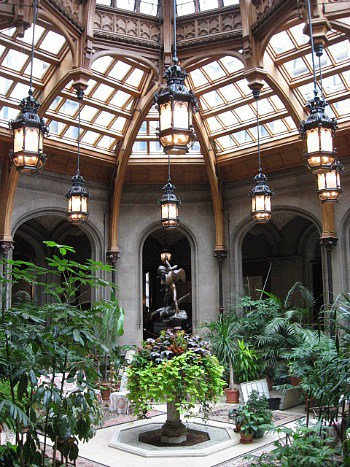 Always the consummate host, George ensured that his guests would be comfortable by outfitting his home with a centralized heating system, mechanical refrigeration, electric lights (even at the bottom of the indoor swimming pool) and appliances, and indoor bathrooms—previously unheard of at the turn of the century. We had a blast debating which of the 32 guest bedrooms we would have chosen for our visit. We had a split vote on how we would have filled our day …mom said she'd be happy strolling the beautifully landscaped gardens designed by Frederick Law Olmsted, the celebrated Central Park creator. Sis said we would have found her curled up in front of a roaring fire with a pile of books chosen from the 10,000 volumes that lined the walnut-paneled library. I would have opted for more active pursuits, such as a work out in the gym, perhaps some bowling, or a game of billiards, followed by a horseback ride, before changing for our dinner party in the 72 ft. long banquet hall, complete with Flemish tapestries, a triple fireplace and an organ loft.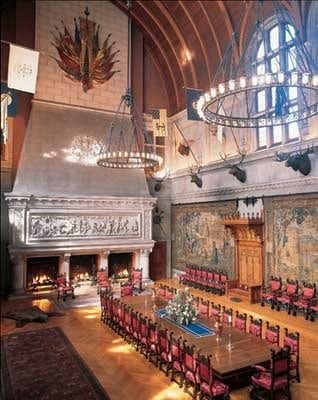 Since my last visit a wonderful new suite of painstakingly, renovated bedrooms have been unveiled which include:
1. The Damask Room, where curators were able to reproduce the room's original wallpaper, a complicated design that replicates on paper the look of a fine damask fabric copied from small pieces of the original wallpaper found underneath door moldings.
2. The Claude Room, filled with prints done by one of George Vanderbilt's favorite artists, the French painter Claude Lorrain.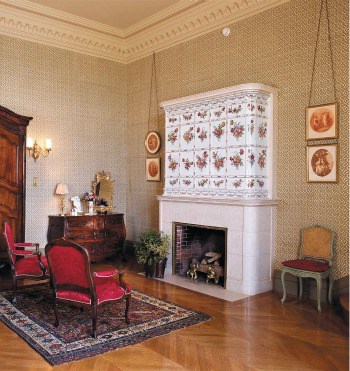 3. The Tyrolean Chimney Room, named after the exquisite overmantle constructed from18-century hand-painted Swiss porcelain tiles.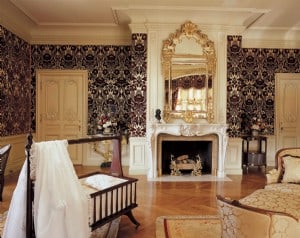 4. The ornate Louis XV Room was referred to as "the Heart of the House." It's no wonder that this lavishly decorated room, complete with sweeping garden views, was where Edith Vanderbilt chose to give birth to their beloved daughter, Cornelia Stuyvesant Vanderbilt, in 1900. This was followed by a few weeks convalescing, as was the custom back in the day.
FYI: I always assumed that the estate was called Biltmore, because they just kept "building more" but it actually gets its name from combining two words: "Bildt" the region in Holland where the Vanderbilt family originated, and "more," an old English word meaning upland rolling hills.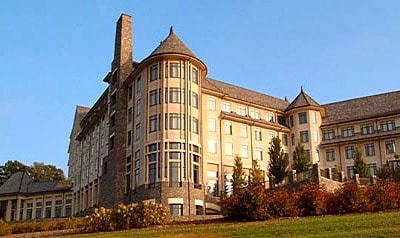 After spending many enchanting hours in the house, we were happy to prolong the dream of experiencing the Vanderbilt–inspired hospitality by checking into the elegant 213-room Inn on Biltmore Estate, in one of the best "rooms with a view" view we've had in some time.  (Ask for a room facing the scenic mountains when you make your reservation. If for any reason you don't get one, it's still O.K. since you can head downstairs and nab one of the rocking chairs on the wrap-around veranda, and a cocktail, to sip while overlooking the 8,000 acre backyard.)
George Vanderbilt's great-grandson, A. V. Cecil, Jr., spent over $30 million creating this elegant inn, opened in 2001, which was a far cry from the original $18,000 estimate that George had been quoted in 1900 to build the inn. Designed to complement the architectural style of the Biltmore house, the Inn has been honored with a Four Star, Four Diamond status.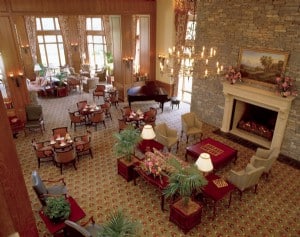 The rooms are spacious and gracefully decorated; with feather-beds that are so exquisitely comfortable you can forgo the Ambien. One of our fave things was that we didn't need to use our car to explore Biltmore. We just hopped on and off the convenient shuttles that ran between the Estate, Antler Hill Village, farm and winery (be sure and stop here to sample Biltmore's delectable sparkling wines) and various restaurants , which range from the high-end dining room to casual pub- offerings at Cedric's Tavern, which was named after Vanderbilt's pet St. Bernard.
*Kudos to all the drivers who provided a wealth of information about not only the property but also were happy to answer our myriad of Asheville questions.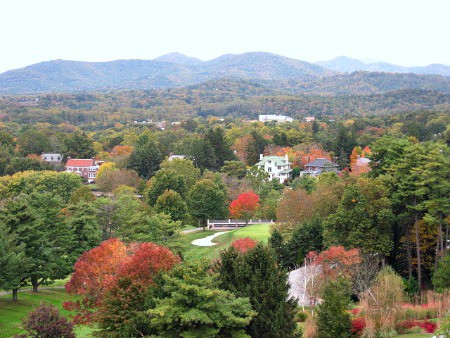 We were too busy exploring the grounds to fit in a spa treatment, but I wish we had after poking our heads into the beautifully appointed treatment rooms. There is also a large roster of outdoor activities available including horseback riding, biking, hiking, a swim in the outdoor pool, Orvis endorsed fly-fishing, shooting clays, kayaking and river float trips.  There are all sorts of fantastic special events going on (George would have been proud that the guests have plenty of activities to choose from) depending on the time of year. We thoroughly enjoyed a special viewing of 45 exquisite stained glass lamps created by the celebrated designer, Louis Comfort Tiffany.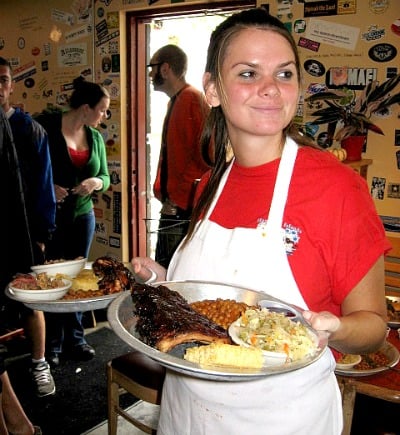 Off-property tip: If you're a  BBQ fanatic, then you cannot leave the area before lunching at the 12 Bones smokehouse.  It's outrageously good–which accounts for the long line snaking out the front door, but if you can't wait, call ahead since they offer take-out, which would make for a mighty fine picnic back at the inn. Highlights were…actually every single thing we ate was mind-blowingly scrumptious, but for sure try Blueberry Chipotle ribs, Jalepeno Cheddar Grits, creamy Corn Puddin', the meaty Collards, and the Smoked-Potato Salad offers a brilliant twist etc. etc. etc…Plus, they serve big portions at dirt-cheap prices. What's not to love?