This is part 3 in Janice's east coast adventure in North Carolina. Also be sure to read more about her stops in Charlotte and Asheville.
Our last leg of the trip was the drive to Blowing Rock, via the Blue Ridge Parkway.
The Parkway is "arguably North Carolina's most scenic drive for viewing spectacular fall colors" … but as far as I'm concerned, this is one argument you're not going to win. It's drop-dead, hands-down, breathtakingly gorgeous; with a rural landscape so vibrant you'd need every one of the 48 colored crayons in the big box to make a picture. Even better, it's an easy drive with all sorts of interesting detour/break spots along the way.
Before heading out, I suggest you stop in at the attractive B.R. Parkway Visitors Center a LEED-certified building that features active/passive heating and cooling, radiant floor heating, a "green" roof and other energy efficient features. The friendly folks here are happy to help you map out your drive, point out construction areas to avoid, suggest which attractions might best fit your needs (ditto with restaurant and accommodations) and really provide an invaluable source of information.
We had come prepared with a fantastic itinerary that Amanda Lugenbell, the wonderfully helpful and patient Assistant Director at Blowing Rock Tourism Development Authority, had put together for us weeks ago and we were going to try and cover all four of her suggested stops:
1. Linville Falls: with an easy hike along the river  to the viewing area for the upper falls, a double cascade, possibly continuing to one of the overlooks to see the lower falls crashing into the gorge. The trails that bring you to the edge of the gorge are steep, but are made easier by steps, handrails, and benches along the way.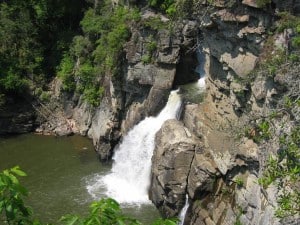 2. Grandfather Mountain: Spend around 2.5 hours at the Mountain, seeing the animal habitats, Natural History Museum, and the Mile-High Swinging Bridge at the top. No hiking is required to see the attractions here, but if you want to take one in, park just below the bridge and take the Bridge Trail (about ½ a mile, I think). If you didn't bring something to eat at Linville Falls, you can get a sandwich or salad at the café next to the museum on Grandfather.  Backtrack to the Parkway when you're done, and head to Blowing Rock.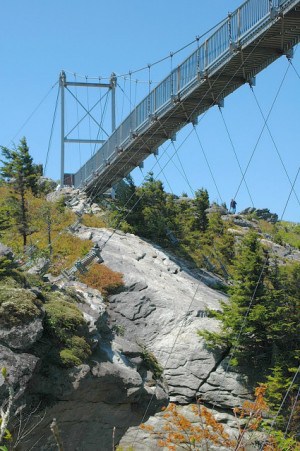 3. Moses Cone Memorial Park: about 1 mile from the Blowing Rock exit [Hwy 321] on the Parkway). You'll want to plan about 30 minutes to 1 hour for the mansion. The craft guild is in the ground floor. The original furniture no longer exists, but some of the fixtures do, and if you're curious about any of the rooms, ask the ladies at the main desk. They can give you some history. Great spots for photos along the carriage trail out front. You can take some nice strolls here (I wouldn't call them hikes) on the carriage trails. You'd need to plan more time for that, of course.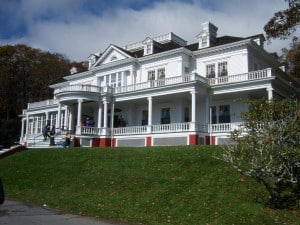 4. The Blowing Rock (on Hwy 321 in Blowing Rock). This visit will take less than an hour. The main attraction is the scenic view, and the walking trail provides nice vantage points. The thing you must do is get a picture of your group either ON the rock (most people do) or at the end of the viewing deck (if you don't like the idea of scrambling on the rock at all).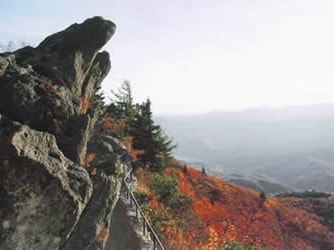 Unfortunately, we encountered some freaky cold weather with torrential downpours so all we could manage was a very slow and careful drive from Point A (Asheville) to point B (Blowing Rock). But the views were still fantastic. Mom lives in Washington State and always swears that nothing beats their fall foliage, but she admitted that this drive was equally impressive.
We arrived at our motel, The Blowing Rock Inn  which admittedly was quite a step down from the Ritz and the Inn at the Biltmore. But it dose offer a clean, cozy budget choice and is well-situated; just one mile off the Parkway and within walking distance to everything in the three square mile town of Blowing Rock, which local travel professionals have named "Prettiest Small Town in North Carolina".We quickly dried off in front of the gas log fireplace and then braved the rain to walk across the street to our dinner spot, Crippens.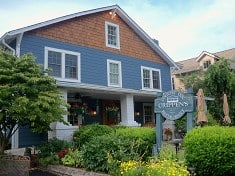 We were not expecting much in the way of fine dining on a backroad in North Carolina's High Country but Lordy, were we in for a surprise. This is the type of hidden gem that food lovers travel miles for.  The talented, 29-year old, Chef Stan Chamberlain is already raking in rave reviews and a collection of awards, such as winning "Best Dish NC"  that focuses on the creativity of the entries and the ingenuity of how local ingredients are used. I'd give him extra credit points for his sense of humor, naming his unique entry "Tongue & Cheek" (braised & Grilled beef tongue and pork cheek).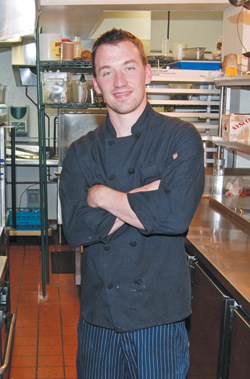 The delightful owner, Jimmy Crippen, works the room like the pro that he is. When I asked him if he was also a chef, he laughingly replied, "Not me. I'm all about booze and schmooze."
He and the Chef are also all about serving imaginative, sophisticated renditions of farm-to table food (the Country Fried Quail perched on a Sweet Potato Pancake, with a sauteed quail egg and meadowfoam honey is firmly entrenched on my Fave Top Ten Dishes of 2011 list) featuring organic local produce, and just about homemade everything-from bread to ice-cream. (Speaking of which, the Figgy Ice-cream, laced with huge pieces of the succulent fruit, was incredible.)
Almost every dish on the daily-changing menu called to us, and thankfully, Jimmy is happy to help with the tough decisions. When we were torn between the Wild Mushroom Truffle-oil soup (which we finally chose) or the Pan Roasted Wild Roasted Mushrooms on Parmesan Flatbread, Jimmy quickly grasped our dilemma and sent out a complimentary flatbread–that  was sheer heaven. The captivating, fungi aroma led the way, followed by the pure flavors derived from the tangle of mushrooms & cheese.
I wish I had known in advance that:
A.) the eight rooms upstairs were not only reasonably priced but also adorably furnished with restored hardwood floors, handmade quilts, rag carpets,  antique rocking chairs, wooden sleigh beds, and even the 1935 original cast iron, claw footed soaking tubs along with Rennai water heaters to keep your bath steamy hot for as long as you wish.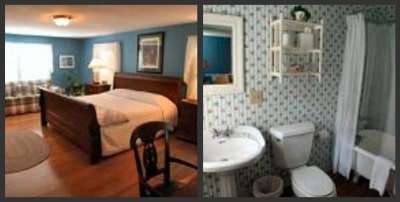 B.) they would have such a tempting wine list. We loved the crispy, fruity Saint Clair 2010 Sauvignon Blanc that Jimmy recommended and would have happily ordered another bottle if we only had to stumble upstairs for a good night's sleep. One caveat: there is a lively piano bar in the parlor that cranks it up until 11-ish you won't be going to bed too early.
PS. If you're anywhere in the region this winter, Crippen's will once again host the extremely  popular: Fire On The Rock Chef Challenge, an Interactive "diner-judged" culinary competition, which sounds like a foodie dream come true.