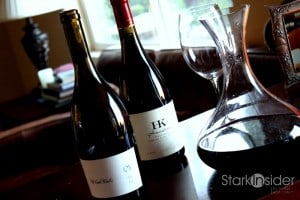 When we think about wine pairing we usually think about food.
Often, though, when we host a dinner party or family gathering, someone (maybe you?) is tasked by the other to pull together a wine selection.
It typically gives me the fits. How many bottles? How long to decant (if at all)? Sparkling…? Light, or full-bodied reds… California, or France… etc.
This is when thinking in pairs really helps. Wine pairs that is.
Even though you may end up opening more than two bottles (way more if the group is large), consider a noteworthy pair of your favorites, or most interesting wines (but not necessarily most expensive) to anchor the evening. In my experience at least, guests are most likely to remember the first wine you serve, and then the one you serve with the main course. These are both key conversational moments.
Now, obviously, you'll want to throw this plan out the window if you're planning paired courses. In that case you'll want to spend time considering each dish, its flavor components and the profile of a wine that will suit it well. This is cottage industry territory. Part art, part science — maybe just a whole lot of random too. When it works it's magic. On the other hand, My "think in pairs" game plan is for those times when you're doing what I sometimes need to do at the eleventh hour: put down that beer, and make a mad dash to the cellar to pick a few bottles before the guests arrive (in 20 minutes).
Over the weekend, I did the unconventional for a small dinner party and pulled two reds. Talk about throwing caution to the wind — no starter white! Why not, live a little, put that Kit Kat on your ice cream.
I was going for an authentic Northern California wine experience. Which is basically a coded-way of saying I wanted a Napa red and a Sonoma red.
Bottle #1 – 2007 Stag's Leap Petite Syrah, Ne Cede Malise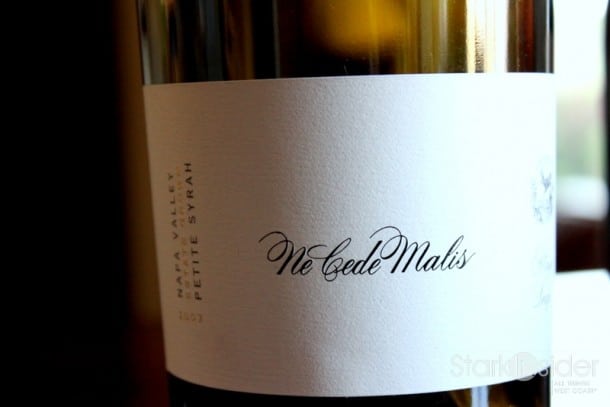 Big, dark fruit – cassis, anise, with lots of tannin and oak. Some spice too. This one comes ready to play- not a wallflower.
Bottle #2 – 2007 HK Generations Pinot Noir, Russian River Valley (unfiltered)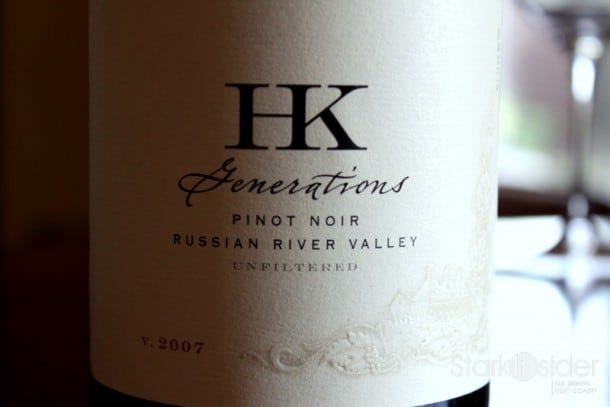 This was the real star of the evening. I picked it up a few years back when we were doing some crazy – "I am woman, hear me roar!" sort of thing – interviews with owner David Di Loreto, a gung-ho former American Airlines pilot, about vineyard automation. When they say there's nothing like Pinot done right, this is what they're talking about. It's smooth, supple and full of "expression" as they say; raspberry, plums. It is classic – and the vintage is too.
On this evening the wines worked in tandem perfectly. The Petite Syrah was bolder, outgoing and so it was a good way to start, while the HK was a better food match (with lamb).
We only needed two bottles (I know, soft) this time, but I had plenty of BevMo backup — there's always another party, and another pairing strategy to consider.
Thanks to Carl O. for the additional notes and conversation!