Yes, she is younger than spring. Last night in Berkeley, timeless diva Rita Moreno proved why her career has successfully spanned over six decades, including the rare feat of winning every major award in show business (Emmy, Grammy, Oscar, Tony). It was talent gone wild on the Roda stage; and even at almost 80 years old, Moreno enthralled the audience with a whirlwind exhibition of energy, gusto. It didn't hurt that there was some big time name dropping and bedroom talk, either. Marlon Brando, Jack Nicholson, Elvis Presley, Elizabeth Taylor (her idol), Clark Gable and Gene Kelly are just a few of the icons referenced in this recounting of the legendary actress' life.
Her one-woman show Life Without Makeup, conceived and written by Berkeley Rep's star artistic director Tony Taccone, features a bit of everything: impressions, acting, singing, dancing, jokes, and even some amusing improvisational banter. If this were an album it would be Rita's Greatest Hits. Fans of musicals will be besides themselves as Rita herself re-enacts famous scenes from Singin' in the Rain, West Side Story, and the children's television show and surprise hit, The Electric Company.
Moreno's life is no doubt a fascinating tale of Hollywood ups and downs.
She landed in New York in 1936 ("I spotted a lady holding a flaming ice cream cone") as a Puerto Rican immigrant, and rapidly ascended the showbiz ladder, one small "but vitally important" role at a time. Although she'd apparently spend a lifetime trying to shake the ethnic stereotype and sex kitten aura, it was exactly those traits that led MGM boss Louis B. Mayer to dub her the "Spanish Liz Taylor." And with that, the 16-year-old ingenue signed a 7-year contract and was on her way, helped in part by her mastery of the "universal ethnic accent."
But, as we would soon learn, the life of an actress is just one moment of glory, followed by incessant insecurity and depression (the Jollys!), repeated time again.
With the aid of a gorgeous, 3-panel projection system, and a couple of (very) buff and talented dancers (Ray Garcia, Salvatore Vassallo) occasionally joining her on stage, we learn the very definition of dogged determination. Despite a series of possibly real or perceived failures (The King and I) — phone, please ring! — she soon finds herself on the cover of LIFE magazine in 1954, at only 20 years old. And the star cycle renews.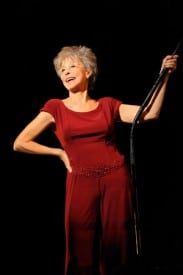 The strongest material comes early. When Rita is recounting her childhood in the Bronx, where the 5-story apartment building is a literal melting pot, each floor characterized by the scent of cooking. "If I wanted to live in Hell, I would've stayed in Poland."
There's even a Moonriver-inspired moment when she sings a beautiful, wistful song on a fire escape.
"I looked like Grace Kelly after an overdose," she laments, explaining to us her never-ending efforts to reduce her ethnic look, this time caking on layers of makeup.
Later in her career, she confronts her narrowing career choices. It comes to a head when she is called to audition for a "big time director." There is some confusion, and it turns out she — Rita Moreno! — is there to read only two lines for the Mexican whorehouse part. Ever classy, she doesn't name names. Of course I just had to Google and do some IMDB investigation after the show. My guess? Christopher Nolan. I could most definitely be wrong.
One of my favorite moments in Life Without Makeup is the clip shown from The Electric Company. It features a young Morgan Freeman trying to order lunch at a diner. The waitress, played with marvelous aplomb by Moreno, sings the menu in a brilliant bit of children's musical television — can you believe the quality of that show?!
Later she introduces us to alter-ego Googie Gomez who can't sing or dance. It's a fun bit of deprecating humor. Dressed in a pink get-up she stumbles, spins and generally Chevy Chases her away through the routine. I could picture Martin Short playing the part of Rita playing the part of the flunky here to perfection.
This is one of two playwriting projects for Tony Taccone (does he ever sleep?). And it seems like Berkeley Rep is in no danger anytime soon of losing its title as the hottest playhouse in America; but this show does occasionally dip into chronological resume syndrome — Rita did this, then she did that, then this. Perhaps there is a dramatic theme or two missing that could tie the performance together better, and help us relate more effectively to her epic journey. And the show lost a bit of momentum with a West Side Story retrospective that ran one number too long. Who am I to say, however, and those that disagree could suggest Rita herself is the force, the epicenter; it would be hard to argue otherwise. My wife later mentioned that it felt a bit like a celebratory exhibit. And, that's probably true; it is what it is, and her life is likely story-line enough for most — how can you top the electric lift and her stories about Jack Nicholson in Carnal Knowledge (1971)!
I should point out that the sound in this production is stellar. There's something about the sound design at the Roda that yields crisp highs, and gorgeous full bass. A lot of that, of course, is courtesy of a really tight 4-piece band (Cesar Cancino, Sashca Jacobsen, Alex Murzyn, David Rokeach).
At the expense of sounding crass, it still must be said: Rita Moreno looks absolutely remarkable, those legs! If anyone has discovered the fountain of youth, it would be this Puerto Rican legend. With or without the makeup, she is a true inspiration, and fans of Broadway and musicals will be floating on a golden cloud high above a Hollywood thankfully not yet lost in time.
Rita Moreno: Life Without Makeup

3.5 out of 5 stars (Good)

Berkeley Rep (Roda Theatre)
Directed by David Galligan
Starring Rita Moreno
Written by Tony Taccone
Developed by Rita Moreno and Tony Taccone
Choreographed by Lee Martino
Through October 30, 2011
Stark-Worthy

At curtain call, Rita called out for director Tony Taccone to join her on stage. It was another highlight on a special evening. Where was he?! Soon enough a seemingly shy Tony hollered down from the balcony waving, "Rita I'm here, Rita!" She wouldn't let him get off so easily, and called for him to come down to the stage. The crowd loved it, and the two took a final bow.

"…when Rita took up residence in Berkeley eight years ago and became a colleague and a friend, it was only a matter of time before I asked her if she'd be interested in doing a play about her life." — Tony Taccone, from the program prologue.

Rita Moreno is now starring in Happily Divorced (with Fran Drescher), a sitcom.

In 2010, President Obama awarded her the National Medal of Arts.

Award-spotting, in the Roda Theatre lobby: an Oscar (West Side Story), Emmys (The Muppet Show, The Rockford Files), and a Grammy (The Electric Company Album).
What others are saying…

"The evening with Rita Moreno was fabulously fun and entertaining. Even though she comes across as the kind of person you would love to sit next to at a dinner party, she is a diva. And I mean that in the best possible way. Her talent is immense. Her magnetism oozes out with every word and dance step. And she sure can move." [Berkeleyside]
Photos courtesy of kevinberne.com