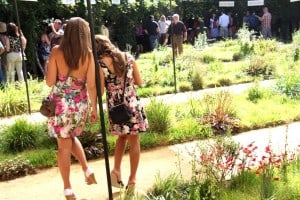 Last Sunday I headed up to Napa for a tasting hosted by Hess Collection, located smack dab in the heart of Mount Veeder – one of those appellations in Napa that evokes endless controversy and strong opinion. It's rugged and mountainous, running along the western side of the valley, and it conjures a sort of wild cowboy mystique.
The wines you can find here are probably a great example of terroir finding its way into the glass. That can be a good thing, or a bad thing. Some find the wines too bold, too over-the-top, too intense. Others, like myself, enjoy the intense fruit forward profile — for some, not all of the wines… the search is half the fun, of course. The steep hillside means a heavy reliance for operators on good old fashioned hand-to-vine. Machination is virtually impossible.
I've up this mountain a few times. And, btw, this is not a mountain in the Mt. St. Helen's sense- Mount Veeder runs about 2,700 feet above sea level at its peek. Still it's quite a trek, heading just off highway 29, weaving through forests of gorgeous, soaring oaks. Hess, of course, is know for that flaming typewriter. There's a great art exhibit here, and it absolutely warrants your attention – I'm a huge fan of wineries that combine the arts with the vino. Talk about ultimate pairings!
A tasting like this one is wholly different than something like a trade event, or media tasting. These are typically laid back and local with no presentations. Winemakers and owners are typically pouring, which means you get first-hand information on the vintage, and their style of winemaking.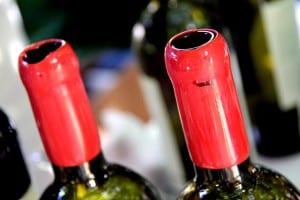 It also means you get a fun story or two.
Like Tom Meadowcroft's account of how he ended up making wine for the A.J. Foyt racing team, "They just called me up, and said 'Hey, I hear you make good wine.'" No wonder, the guy was working Bordeaux at 19 years old. I was fortunate enough to taste an '08 barrel sample he was working on for the team. Really impressive… not a shy wine, the kind that could hold its own among the noise and ruckus – not that these guys are drinking/tasting while racing… but you get the idea.
And with that overly long intro, here's my top 5 picks up on Mt. Veeder on this day (out of the 24 that were pouring).
2008 Rousseau Le Roi Soleil Cabernet Sauvignon, Mount Veeder, $65

Age-worthy I'm thinking on this one. A standout among a pretty decent field.

2007 Paratus Cabernet Sauvignon, Mount Veeder, $70

More than just a wax show piece. Layered with backbone. Tannins are here and you'll know, but I like that structure and definition a lot.


2005 Robert Craig Cabernet Sauvignon, Mount Veeder, $75

Berry cab. Almost Merlot like. The spice is-a nice-a.

2008 Meadowcroft Cabernet Sauvignon, Mount Veeder, $36

Dark and intense, with lots of berries, long finish. Likely to outmuscle every other red out there.

2006 Rubissow Estate Reserve, $125

Big Napa in a bottle. Gorgeous, rich.