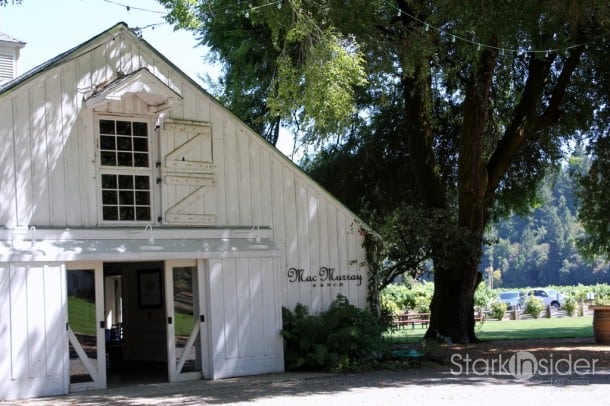 It's a well-known fact that celebrities love wine. There is a sizable list of stars that have taken to owning wineries, either for personal pleasure or as a way to expand business endeavors to encompass something they love. Here in California's wine country, celebrity wineries include Francis Ford Coppola's Rubicon Estate Winery, Dave Del Dotto's Del Dotto Vineyards, and Diane Marie Disney's Silverado Vineyards Winery, among others.
However, wine also loves celebrity. As wine grows in popularity with US consumers, wine brands are looking for differentiators — whether it be a terroir like "Rutherford Dust," a family story, an association with a famous name, or a sprinkling of a couple of these elements. These associations can elevate the brand, and because generally we don't taste blind, they can potentially enhance the drinking experience.
The Hollywood roots of MacMurray Ranch Winery were front and center when I visited this 1,500 acre property in Sonoma County during an exploration of the beloved Chardonnay varietal.
While only 450 acres of the property were converted to Pinot Noir and Pinot Gris vineyards in the mid 1990's, artifacts of the vineyard's past — dating as far back as the 1850's when it was a farm and cattle ranch owned by the Porter family and later by Fred MacMurray (of "My Three Sons" fame) — are well-preserved.
After a Chardonnay tasting in which the MacMurray Ranch 2008 Sonoma Coast Chardonnay ($20) came out as one of my top picks, I toured the historic prune barn (named such because it was the area where prunes were processed and dried) with Kate MacMurray, the daughter of the late Fred MacMurray.
She shared stories about her dad and life on the ranch when she was a little girl. One of Kate's fondest memories of her father was when she returned to the ranch as an adult. She decided to go out with friends that evening and Fred MacMurray told her to let him know when she returned safely. Kate didn't arrive back home until well past midnight and decided not to wake up her dad. She went to sleep, but woke up startled with someone tugging her foot. It was her dad. He had come into her bedroom to make sure she had indeed returned home safely. Kate said it was little things like this she remembers most affectionately about him; how caring he was as a father.
Kate now lives on MacMurray Ranch and represents a connection between the relatively new winery owned by E.&J. Gallo and its nostalgic Hollywood past.
As I watched Kate walk back to her home on the property after our conversation, I couldn't help but notice a resemblance to Nicole Kidman when she spoke, in both looks and demeanor.
Perhaps I am getting a little too caught up in the celebrity and wine connection. For now I'll sit back, enjoy a gorgeous sunny day in Sonoma…and sip on a glass of Chardonnay.