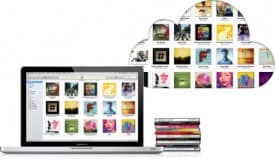 iTunes Match is a streaming music service from Apple that enables you to store your music collection in the cloud. Songs can be accessed on-the-go from iOS powered devices such as an iPhone, a MacBook Pro or iPad. Match was just made available in beta to developers which explains all the headlines. From what we know, it will launch this fall.
Why the Cloud?
The advantages of storing your music in the cloud are presumably numerous. You won't need to worry about having multiple copies of your collection. One music collection will rule them all. Disk space becomes a non-issue, as you can simply add more as you need it.
As we become accustomed to storing information on remote servers, we will likely see more companies offer these high-margin products and services. Netflix, for instance, now provides streaming video rentals. Also, don't forget, we've been using online banking for years now. Could that be considered one of the first "killer apps" for the cloud?
Cost
iTunes Match will go hand-in-hand with Apple's recently announced iCloud storage. Apple iCloud users get 5GB of free storage. An additional 10GB will cost $20 per year, 20GB/$40 and 50GB/$100. Also a nice benefit of using the cloud: when you buy a song it's automatically added to your iCloud. In the "old days" you'd need to download it to your PC, then make a backup (if desired), before uploading again to a cloud service.
Competitors
Competitors for cloud storage-based models include Google Music and Amazon Cloud Player. Both offer similar capability and have been in the market for most of 2011. Amazon has the advantage of integrating the shopping experience.
Popular streaming music services, while not direct replacements for something like iTunes Match, are also viable competitors. The biggies here include: Pandora, Last.fm, and the crowd pleasing Spotify.