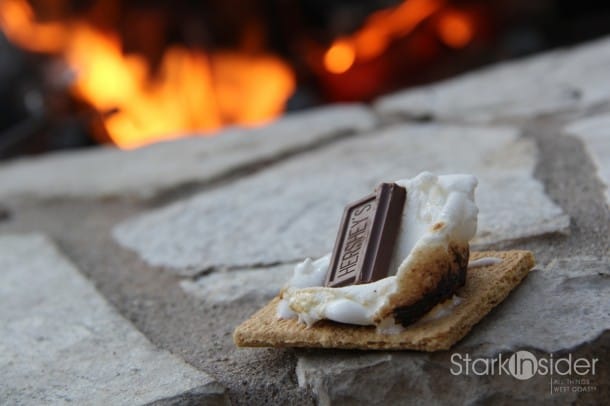 Winemaker Peter Figge knows his stuff. If I were a Clint of a different kind (the cooler, vigilante, Hollywood kind), I might even say, Go ahead, make my wine!
A biologist, turned winemaker, you quickly learn he digs the wine business. A quick guess: after talking with Figge ("Figg-E"), you will learn at least one thing you never knew about wine, and winegrowing. It's as certain as the morning fog over Highway 1 just south of Monterey Bay.
Last night I had the opportunity to taste through some Monterey wines here on the Pacific coast. As fate would have it, Figge was hosting a small wine tasting at the Carmel Valley Resort, Clint Eastwood's gorgeous, sprawling estate, where we were staying.
About that Clint. He met Dirty Harry the "hard way." In 1990, he felt a tap on his shoulder, then that husky big-screen Marlboro: "Let me know if this guy's treating you the right way." Peter thought, "Hey I know that voice!" It was Clint Eastwood himself checking in on Peter's wife Amy at Hog's Breath. Decades later, who knew he'd end up working here at the Ranch.
Truth be told, I am here on a short vacation. An escape from the Silicon Valley hills to the coastal hills. I promised myself that I'd not work. But it didn't take long before I found myself chatting up the vintner, tasting four of his wines (he makes five: 2 Chards, 2 Pinots, 1 Syrah); later after a stop for some S'mores at the fire pit by the pool, and a spirited hike, I again found myself bound to el MacBook, typing into the chill.
The son of an avid wine collector, Peter got into wine by chance. Internships in the early 90's at Beringer & Grgich in Napa whet his appetite: "I saw Cabernet grown in Alexander Valley, up on the hillsides of Glass Mountain. I had the opportunity to fall in love with grape growing."
Friends recommended that he not witness crush at Beringer. "You won't learn anything – it's push button – the facility's too large to pick up nuances."
Instead, he found himself pursuing his passion at — you guessed it — UC Davis. As he says, "I didn't want to be an assistant to the assistant forever. I had to go out on my own." So a Master's in Viticulture it would be.
Only on his seventh vintage, Figge is genuine. With a quick smile, he's equally excited to talk canopy management as he is to confess to early mistakes with fermentation. It's refreshing to hear from a winemaker so open about success and failure.
MORE PHOTOS: Travel, wine country, Napa — on the Stark Insider Facebook page.
What makes a great wine?
In Peter's view, there are three keys: place of origin, in-field viticultural practices, style of winemaking.
Tasting Notes: Figge Cellars (2,000 cases)

2009 Figge Chardonnay (La Reina)

Santa Lucia Highlands. Soft, some oak. Light fruit notes, apple, pear.

2009 Figge Chardonnay (Pelio)

Monterey is know for acidity and this is a good example. Tighter, not as lush as the La Reina. Sharp. Long, acidic finish.

2009 Figge Pinot Noir (Paraiso Vineyard)

Light ruby in the glass. Another Santa Lucia winner (reminds me of La Rochelle in Livermore, another strong boutique producer of Pinots). Cherry. Some spice and oak- also soft.

2009 Figge Pinot Noir (Pelio)

Darker than the Paraiso, and slightly more intense. Puckery, a food wine. More structure relative to the Paraiso.

All four wines are young, of course, but surprisingly (and you can go ahead and bum rush me for using this term) "approachable" – don't age them, drink them. Prices range from $40-65. My favorite: the Pelio Pinot. I like my Pinot's with structure; I'll call it "farmyard structure." Oxymoron? Probably, but I don't know how else to capture that essence that makes a Pinot so… well, Pinot. And the Pelio is a pleasant cool-climate example. One thing I like to avoid: the candy-ness (almost plastic-like) that you might sometimes find on poorly made, lower cost Pinots.
Why do wines/grapes in a cooler region, such as Monterey, maintain acidity?
In coastal regions, temperatures will typically drop below 55F at night. When it's that cool, according to Figge, plants are dormant. On the other hand, vines in hotter regions — like Death Valley, where it can be 100F even at night — need to convert acids into sugars. The result: a wine with a less acidic profile.
SOCIAL #WINE – I tweet about Napa, Livermore, Sonoma, California wine tastings, and — being from Silicon Valley — tech too (especially Android, and my trusty Canon T2i and 60D DSLRs). Follow me @clintonstark. Cheers! Clint. Disclaimer: I also complain about gophers.
On wine labels…
"I tried to make a more traditional wine label. There's too many critters on labels- wombats, kangaroos, mice, you name it," he says. "Hopefully this will stand the test of time."
On Pinot…
"It's been cultivated for a long, long time. There are over 200 clones. I think Noah was the first to grow it." One unique feature on his wine labels: the # of cases produced.
Monterey Wine Region:

— 125 miles south of San Francisco

— First planted by Franciscan friars 200 years ago

— Wente, Mirassou, Masson, J. Lohr, Chalone among first growers

— 100 miles long from northern tip at Monterey Bay to southern edge abutting Paso Robles

— 40,000+ acres planted ($200M)

— 9 AVAs within Monterey (1984)

— Chardonnay (over 50%), Pinot Noir, Riesling

— Not much rainfall: typically only 12-15 inches rain per year (Nov – Jan); results in dry growing season that requires significant irrigation control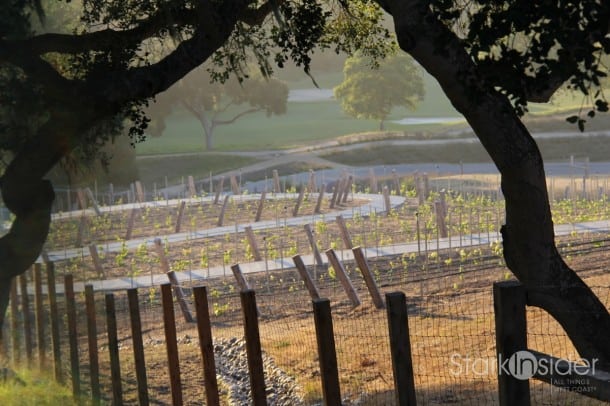 On pricing…
"I didn't have a lot of feedback [in 2005]. I went to a lot of different, high end retail shops in the Bay Area and said 'Hey, if I told you the story, what would you think?' Story matters."
"I'm single vineyard. Monterey," he explains. "I can't go up to here [pointing to ceiling] because I don't yet have a reputation."
On ratings…
"Wine Spectator, Parker and those guys tend to like bigger, bold wines. I don't want to play that game. It can be a big problem for me. If I get a big score, I'll sell out and won't be able to deliver to my loyal clients … I'm in Nashville [one of 10 marketplaces]. Why? Because my brother found his wife there."
And: Clint Eastwood's Favorite…
Turns out, the big Clint knows Figge's wines. His preference? Pelio vineyards. Red or white.
Oh, and a personal bonus…
Being on vacation, for this particular tasting I was not spitting. I was chewing. Swirling, then drinking and savoring the vino. Living. Every single second; up here at Carmel Valley Ranch, you have no choice but to succumb to welcome escapism.