If you need some back-to-school relief, you may want to head out for a night (or day!) on the town this weekend. Who knew backpacks, school buses, and excitedly nervous children could make our lives this exciting?!
There's a lot of events and things to do across the Bay Area, and we try to cover as much as possible, from San Francisco over to Berkeley, and down to San Jose and up the peninsula again to Palo Alto. Okay, it's a bit of a spaghetti special I suppose.
Of all the things that fly across our desks here at SI, we've distilled once again some of our favorites, and compiled them into another Bay Area Weekend roll-up.
Do you have any plans or favorites? Let us know in the comments. And, we hope to you see you out there. Don't forget: sunscreen, Tylenol, smile.
Toke
Ashby Stage, Berkeley
Through September 11, 2011
toketheplay.com
At last, the real story behind the Betty Crocker generation. Follow the fall and rise of Weedee, the hapless All-American girl as she crashes through the Tupperware Wall to become the self-proclaimed "face of marijuana" and Counter-Culture activist. Weedee's wild ride leaves husband and lovers, male and female, in the dust. From her sneaky sorority tokes to German anarchist collective bong fests, from kosher households to swinger parties, she fails again and again to choose the straight and narrow.
"Images from the Inside" Alcatraz Art Exhibit
Alcatraz Cell Block Gallery
Opening: Saturday, August 27th, 2011, 1pm – 4:30pm
The National Park Service and We Players have invited the Prison Arts Project, which sponsors on-going art classes at San Quentin through the William James Association, to exhibit outstanding examples of its work in "Images from Inside." The exhibit will also include visual art from the former California Arts-in-Corrections program – now collected by UCLA Library's Prison Arts Archiving Project and WJA.
The August 27th exhibition-opening event will include a panel discussion representing the largest gathering of minds in prison arts programming in the Bay Area in over a decade.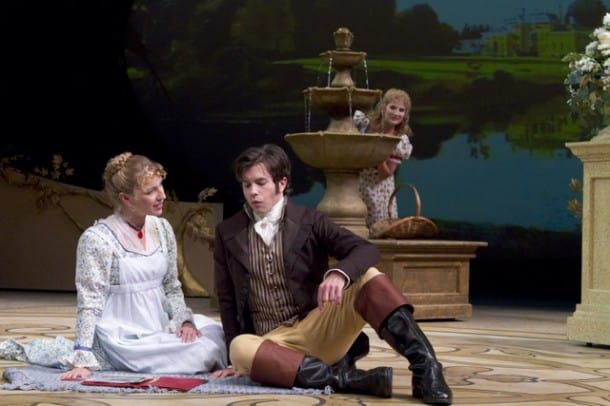 Sense and Sensibility (American Premiere)
Mountain View Center for the Performing Arts
August 24—September 18, 2011
Fortune lost to fate, romance lost to folly, two charming sisters sail the unpredictable seas of courtship in this captivating, intimate adaptation of Jane Austen's classic novel. Sensible, reserved Elinor and passionate, impulsive Marianne find the course of true love beset with scandalous secrets, shocking betrayals, dashing suitors, and devious rivals, all brought to glorious life in a delicious, period-perfect tribute to everything Austen.
Now On Stage: