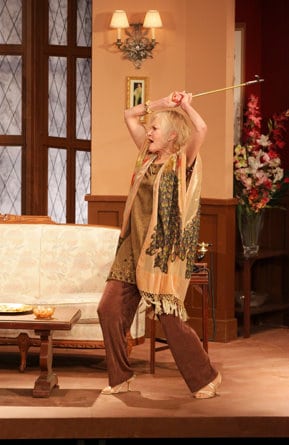 If you like 30 Rock, chances are you'll like The Final Scene, a rambunctious, entertaining new comedy that takes us behind-the-scenes of the high stakes world of soap operas. And just like the popular television show, all the warts, egos, infighting come to the fore. As do the laughs. Penned by Sonoma playwright Gene Abravaya — his second full-length play — the show just opened at the wonderfully intimate Thick House in San Francisco. It was a memorable evening on many counts, and another example of why this black box style of live theater can be so engaging, rewarding.
Set entirely in the New York CBS studio of "The Promising Dawn", a fictitious 1986 soap duking it out for Nielsen ratings against Guiding Light and The Young and the Restless, the massive egos of three career soapers are colliding en force. It all centers around Gretchen Manning (Jennifer Weil) the camera-hugging diva. Princess of the grand entrance, she's knows she's a star, baby. But both her and her character Rosemary's time has come, and it's her last day on the set. Her foil, and would-be killer, the smarmy Jeremey Slade (Nick Sholley), is just one Ross jacket away from selling used cars on Stevens Creek. And in between the unhinged is executive producer Joe Whitmore (Michael Ray Wisely), who himself has a few skeletons in the closet.
"I work in soap opera, but what makes you think I have a sense of humor?"
In this upside down world, it's a miracle that a single episode of the show ever gets taped. The camera men are busy making side bets, at least one production assistant is a convict, and "corporate" hovers over the proceedings to ensure those ad spots for cleaning product continue to sell. It makes the island of misfit toys look like a model for normalcy.
Abravaya adds a clever show-within-a-show twist. A 16mm documentary (or maybe it's a film?) is being shot on set, and from time to time the actors stand in a spot and converse with "the voice." There we learn juicy back-story, and clues to the various character's motivations, unsavory or otherwise.
There's some fun 80's references that are thankfully not over-done. Look for a nod to Miami Vice, parachute pants, and a "basketball" player that looks like an extra from an Olivia Newton-John music video.
The three leads — Wisely, Weil, Sholley — deliver superb performances, and anchor the production, each bringing unique style to their characters. I remember watching James Carpenter here in Trevor Allen's seminal The Creature a few years back, and, once again, find myself simply amazed at the calibre of acting you can find at a black box theater such as the Thick House. Sholley has that unlikeable/likeable nuance down — especially watch how he uses facial expressions… oily, snake charmer! Weil channels a hint of Meryl Streep from The Devil Wears Prada (or is that Joan Crawford from Mommie Dearest?), in a performance that oozes class. And Wisely, replete with the Alec Baldwin-like beard, perhaps delivers the best performance of all; his timing is savvy, and he commands the stage, even when admonished by his "stars."
"Soap opera stars have so many horrible things happen to them, it makes the outside world seem like candyland."
Over a glass of chilled Mondavi Napa Chard (but, of course!) I spoke with an audience member who had seen the production when it premiered in Santa Rosa. She noted several changes to the script. And probably a few more minor tweaks are in order, before it's completely honed. Some of the scenes run long, and not all of the sub-plots gel. Clearly, though, Abravaya has a gift for comedic drama. In particular, the final scene satisfies. These people's lives are defined by this alternate TV universe that has become their reality. Famous events — JFK's assassination, the Mets winning the World Series, the moon landing, Nixon — are  recalled by marks on the set, and camera tracking set-ups. In this world, soap stars never die.
THE FINAL SCENE

3.5 out of 5 stars (Good)
By Gene Abravaya

Thick House, San Francisco

Starring Michael Ray Wisely*, Harry Duke, Nora Summers, Julia Hoff, Gene Abravaya, Eric Burke, Freddie Lambert, Jennifer Weil*, Nick Sholley*, Rebekah Patti, Harry Duke

Through September 4, 2011

Tickets: $25 www.brownpapertickets.com

* Member of Actors Equity, the Union of Professional Actors and Stage Managers
NOTEWORTHY

The Thick House is located in Potrero Hill, South San Francisco which makes parking a welcome breeze

Rocketfish sushi is one of several dining options just a block up the street – enjoy a dinner, then stroll down to the theater; after the show around 10pm the city is just revving up and further entertainment options abound

Don't miss at intermission: addictive cookies ($1) and decent house wine from Mondavi ($3)

Listen carefully for those 80's themes and soundtracks: I recognized Dynasty, Twin Peaks, Dallas, and … even John Carpenter's Halloween theme!

Playwright Gene Abravaya spent 4 years working on the set of As The World Turns