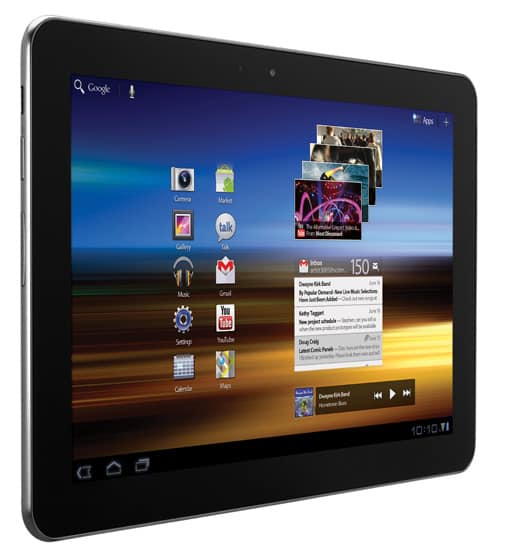 Not only is the new  Samsung Galaxy Tab 10.1 tablet thinner than the Apple iPad, it will shortly become the fastest one on the market as well. On July 28 Verizon will begin selling LTE versions for $529 (16GB) and $629 (32GB) that will be capable of downloads up to 12 Mbps. A wi-fi model will sell for $499. Three monthly data plans will be available: $30 for 2Gb; $50 for 5GB; and $80 for 10 GB.
Weighing in at just 1.25 lbs the Galaxy Tab is the lightest tablet on the market. At only 8.6mm thick, it's also slightly more svelte than the Apple iPad which comes in at an equally agreeable 8.8mm.
That this Tab is such a sweet piece of kit, with specs sure to please fans of Android, could result in a sales hit for Verizon.
However, one potential issue could spoil the party. The Android Marketplace — Google's answer to iTunes — only offers about 200 apps optimized for tablets (devices running "Honeycomb"). This pales in comparison to the iPad which has over 100,000.
Given that the prices are virtually the same, it remains to be seen if consumers value the slick Galaxy Tab hardware or the depth of iPad apps.
Verizon: Samsung Galaxy Tab 10.1