Miss Kitty's (Camden)
My fave soul food of the whole trip. Even hardcore veggie–haters will fall in love with Miss Kitty's versions of collards, cabbage, okra, black eye peas…served alongside completely grease-free fried catfish. Finish off with a slice of either her sweet potato pie or the chocolate pecan. Both were delish, even though the beautiful Miss Kitty divulged to me that  "when I first started baking, my biscuits were so hard they would bounce off a brick wall. But I wouldn't give up until I got it right." Open only for lunch.
Tip: Word from the locals is that the all time BEST fried chicken and cornbread dressing can be bought at the deli counter of the Piggly Wiggly.
Touch of Home ( Livingston)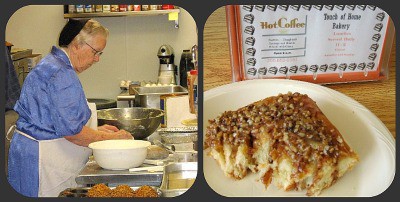 Enroute to the Birmingham airport, stop at Touch of Home where the assorted pastries, baked daily by local Mennonites, thankfully tasted nothing like my mother's. Calories be damned when it comes to their gigantic pecan sticky buns. Pick up a chicken salad sammie on homemade wheat rolls followed by a slice of peanut butter pie for a enviable lunch on the plane.
Next time I want to check out:
Gaines Ridge Dinner Club- There are a couple of ghost stories associated with this house. There is also a "ghost truth" told by Mrs. Betty Kennedy, the owner. The black bottom pie (whipped cream, chiffon and chocolate pie in a gingersnap crust) is listed in 100 places to eat before you die.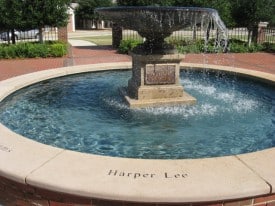 The Harper Lee Writers Symposium- held every May at Alabama Southern Community College. The water fountain in front of the library features the names of so many famous local writers that people say "It's in the drinking water." Step inside to see local artist, Nall's, symbolic portraits of Alabama literary icons Truman Capote, Harper Lee, Martin Luther King, Jr., Helen Keller, etc.
Ezell's Fish Camp-originally used as a trading post back in 1937, it's now a cultural institution, famous for its deep fried dill pickles and catfish.
Gee's Bend Ferry Celebration– In 1962 the ferry had been discontinued for over four decades as a way of deterring civil rights activities. Many special activities are planned for Sept. 18, to celebrate the anniversary of the ferry re-launch in 2006. There will also be a G.B. arts and craft festival and a play performance on 9/16 -17 at Ye Shall Know the Truth Baptist Church, also known as "the church that quilts built," because so many of all the quilters contributed money to build it.
And just because it sounds like such a hoot: I'd like to stop in at the Monroeville Chevron Gas Station to try their renown 6 layer cakes (Chocolate, Lemon and caramel) and fried chicken box lunch.
For help in planning your visit to Rural Southwest Alabama contact Linda at the Alabama Front Porches website or go to www.alabama.travel