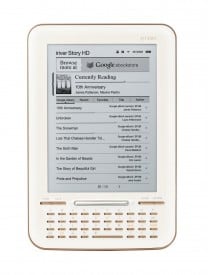 Google has chosen South Korea-based manufacturer iRiver to build the first e-Reader that using the open Google eBooks platform.
Clearly aimed at taking a slice of the market away from leader Amazon and its Kindle devices, the new device, dubbed the iriver Story HD, will cost $139.99 and be sold through Target starting July 17.
According to the announcement which was made on the official Google blog, "It includes over-the-air access to hundreds of thousands of Google eBooks for sale and more than 3 million for free. With the Story HD you can now browse, buy and read Google eBooks with your e-reader through Wi-Fi, rather than downloading and transferring them from computer to e-reader with a cord as you can already do with more than 80 compatible devices."
It's an interesting move. Here we have Amazon reportedly building a tablet that will run Android. Meanwhile Google is making a big move into the e-Reader space, which will potentially cut into Amazon's sales. Can you say co-opetition?
In December, Google made its eBooks app available on multiple platforms including iOS, Android and via browsers.
According to the blog post, Google has signed on over 250 indie booksellers that can sell books on their web sites via eBooks.