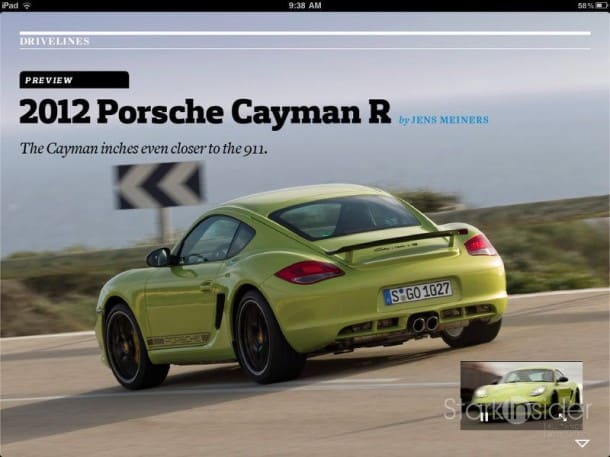 Some times the best things in life are the simple pleasures. Like carving out a few minutes at the end of a long day to catch up on your favorite newspaper, magazine or book. For me, it's typically Car and Driver (with BusinessWeek and Popular Photography as close seconds), my favorite car magazine for the past thirty years – a tradition handed down by my father.
With C&D now available on the iPad I wondered if the experience would be the same. So a month or so ago I downloaded the app downloaded a few issues, and took it for a virtual spin.
My first reaction: slick! The photos really pop on the iPad's bright screen. I also immediately found myself right at home with the navigation, which, like most iPad apps, is brilliantly intuitive. You swipe left and right to jump across stories. Find something interesting, and you can swipe vertically to go deeper into the piece. It's simple and works. In fact after spending a few hours over a couple of days, I found it virtually impossible to go back to the print edition.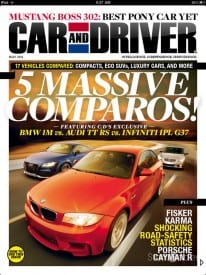 Thankfully, the C&D app on the iPad is by no means just a port. Even it was I'd suspect it would be still great. But what puts it over the top is its dynamic features, unique to the iPad. Things like pop-up numbers. With cars — like baseball — it's all about the numbers. They're here, in spades of course. But with the iPad app they don't distract the story or photos. When reading about the slinky lizard, the $96K Fiskar Karma hybrid sedan, I could enjoy the photos (even swiping a small gallery to access more photos than available in the print ed.), and then with a touch, pull up the numbers. Zero to 60 MPH: 5.9 seconds. Not bad for a 4300 lb., partially electric-driven concept.
Another sweet trick are the vids.
Sure there's nothing new about video. But, again, I like the way C&D has integrated them into the magazine without disrupting the experience of reading. When I landed on the preview bit for the 2012 Porsche Cayman R, for example, a small window popped up and a beautiful, distinctive German roar caught my attention. It was the little green machine racing on a track, making 911s everywhere take note. With a touch I could bring the vid full screen. It was only 26 seconds long, which was just enough to add character to the story.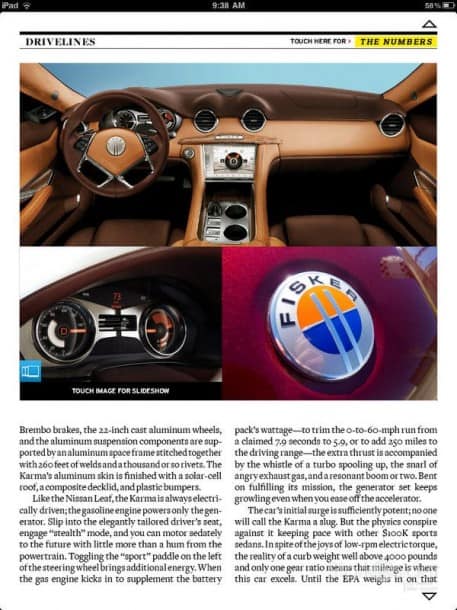 Pricing for issues is comparable to other digital magazines: $4.99 for a single issue or $19.99 for a yearly subscription. Also, I was pleasantly surprised to find a decent amount of free content including entire issues from the previous six months. One sore point: existing print subscribers cannot tie to the digital edition, requiring readers to potentially pay twice for the same content. I agree with the reviewers on iTunes that this is ridiculous, and it should be fixed. BusinessWeek and Motor Trend, among many others, provide existing subscribers access to all of their digital editions. And I don't see any reason why this should not be true here.
This C&D app is cause for celebration. Eddie Alterman and his team should be commended. The mag has a new look, new style. Yet it retains its heritage, its love for cars, and, in my books, is still the cream of the crop. With this app, they've enhanced the reading experience by cleverly using all the wonderful things the iPad brings, without losing focus of what matters most: our love for all things automotive.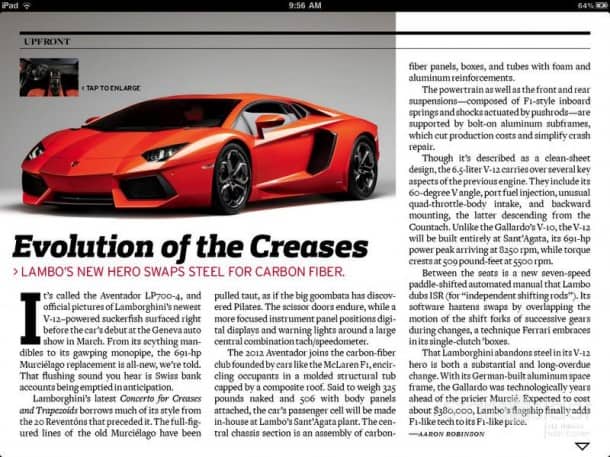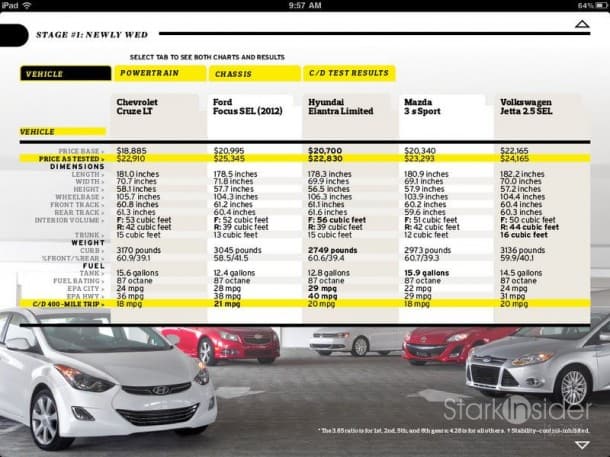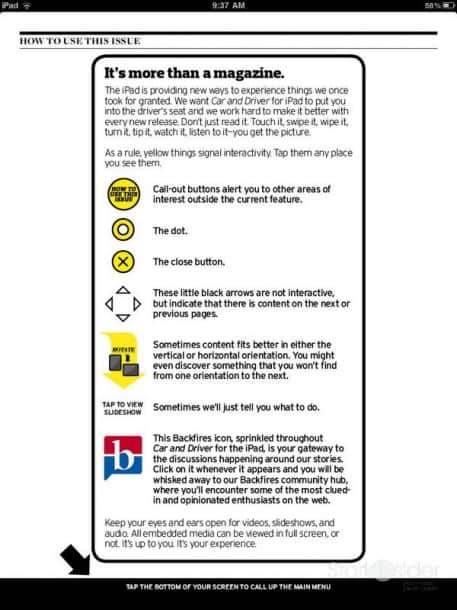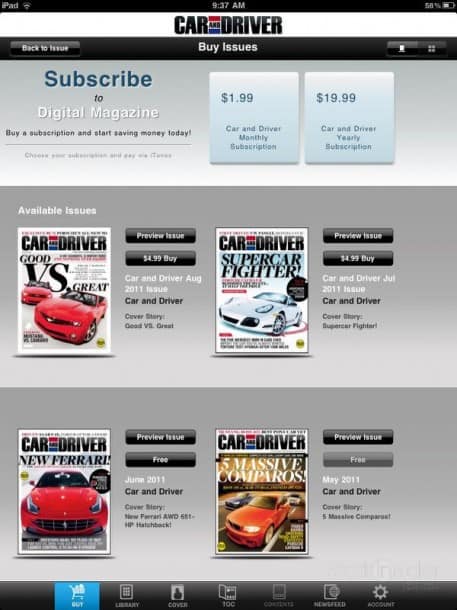 Car & Driver app for iPad

4.5 out of 5 stars (Excellent)

+ Photos really pop, videos well integrated, easy navigation, free backissues.

– Existing print subscribers can't access digital issues without paying again.

= The C&D app enhances the reading experience by cleverly using all the wonderful things the iPad brings, without losing focus of what matters most: our love for all things automotive. However, we wish they'd show their loyal subscribers some love.

On the Web: itunes.apple.com/us/app/car-and-driver-for-ipad/id389029706