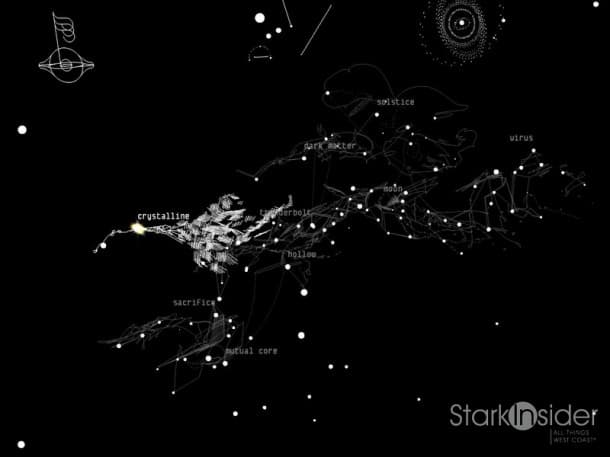 So this is how they make iPad apps in Iceland, eh? Then again with Björk and normal do not belong together in the same sentence. And the music world owes here a tremendous debt of gratitude. Her artistic bent is relentless. Remember "It's Oh So Quiet" and the accompanying video? This is what real music innovation is like, sans auto-tune. Bring it!
If anyone defies categorization it's Björk. Her style and je ne sais quoi undoubtedly paved the way for the Lady Gaga music fashionistas of the future. Wood Allen would approve.
As big of a fan as I am, though, I'm not so sure this left-brained kind of thinking translates well to the iPad. Her multimedia foray into the world of iPad shows potential.
Her app, Biopilia, is in a word, bizarre. It's also quite beautiful and somewhat entrancing. For better or worse you too can now enter her 3-D cosmic world thanks to the iPad app that is now available free on iTunes.
At first blush, it looks a bit like a black and white version of Google Sky Map. Using your finger you can scroll across a collection of stars, nebula and otherworldly objects. Is this an alternative universe, or the inside of Björk's brain?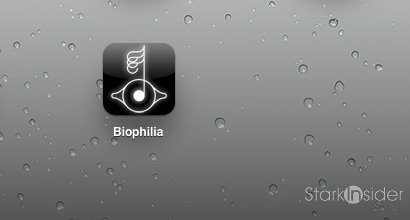 And what's that sound… very haunting. Ghosts?! Lost souls trapped in the heavens?!
So I click on "crystalline" and I time travel onto a …
"But this app" screen: " 'crystalline' is an innovative interactive experience designed by bjork to explore the similarities between musical and spatial relationships. simultaneously music composition, animation, game, and educational tool, 'crystalline' allows you to learn about the song's structure. at the start of the interactive game a crystal seed floats through tunels, scraping crystals of other colors from the tunnel's walls ot it as to moves…" (etc.)
That was fun. I click on "thunderbolt" – everyone these days loves that moniker, and I time travel onto a …
"coming soon" screen.
Great.
I avoid "virus" and head to "solstice" and I space travel to a …
"coming soon" screen (this one is yellow).
Nice.
I try "dark matter" with similar — and quite anticipated — results.
And then I quickly exit and head to Flipboard. In England a 168-year-old empire is crumbling, and while I enjoy a diversion as much as the next guy, I'm not sure my neurons are fully equipped to understand the inner workings of an Icelandic musical genius.
(There's obviously more to this app than meets the bewildered eye … if you're a fan of engaging multimedia experiences, download Biophilia and try crystalline for $1.99. Headphones – and soaring imagination – recommended.)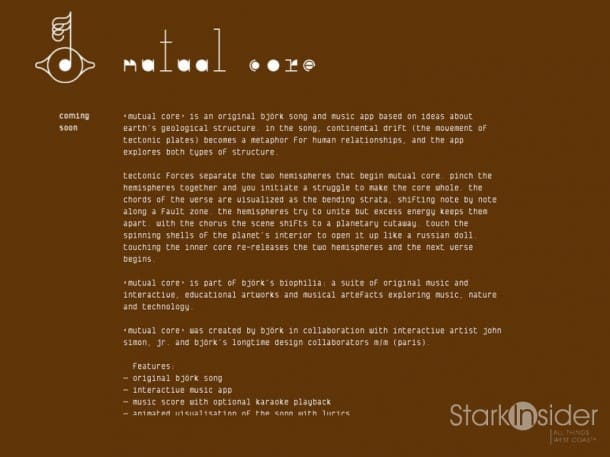 Björk: Biophilia

App for iPad
Free: iTunes

Clint says: Beautiful, confounding. My brain is numb. Lots of potential and a very interesting mix of media that suits the iPad well. Work in progress with lots of "coming soon" notices. Only one app is available (crystalline, $1.99).