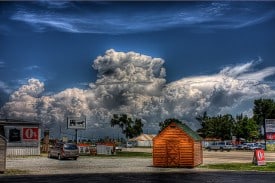 If there's three tech headlines you should know about in an otherwise slow news week, it's: Zynga, PSN and iCloud. And, no, iPhone 5 won't be making waves this summer. Some had predicted that it would be announced next week, but right now Apple's head is in the clouds… along with just about everyone else (Google, Amazon, et. al.).
A quick aside: when did Cisco (CSCO) stock become so passe? Okay, onto the round-up for this morning.
Zynga
If Risk made you cry, wait until you see what social gaming giant Zynga has in store. In today's over-connected society, even your futile attempts at world domination will now be seen (and commented, disliked, critiqued) by thousands.
Zynga, who simultaneously turned the gaming market on its ear while draining billions in lost productivity — FarmVille? Mafia Wars? — is now launching its first strategy title.
Called Empires & Allies, the game launches today (in 12 languages no less), and invites you to build army units, recruit or invade friends and derive clues from allies and villains. If CEO Mark Pincus has his way the game will continue the company's quest to become the "Google of online entertainment." Reportedly, the company is expected to file for an IPO this week.
PSN
BTW- the PlayStation Network (PSN) is down. Just a heads up. And if that's news to you, then I should also let you know that Bin Laden has become the new Elvis.
According to a post on the PlayStation blog, the company "will fully restore all PlayStationNetwork services in the Americas, Europe/PAL territories and Asia, excluding Japan, Hong Kong, and South Korea by the end of this week."
For their eternal patience, PSN users will be greeted by a "Welcome Back package" that includes two free games and a free 30-day access to the premium PlayStation Plus service.
Total cost of the breach according to some reports: $170 million.
If Sony follows through and finally restores service to its beleaguered service this week as promised… what will people and gamers-alike around the world Tweet about?
Apple iCloud
For the first time in possibly forever, Apple tipped its hat and announced what it would be announcing. Another announcement, likely announcing the new cloud-based music service dubbed iCloud, takes place next week at the company's World Wide Developer Conference in San Francisco. No word if other announcements will follow.
The move follows Amazon (Cloud Drive) and Google (Music Beta) who have been wooing customers with free storage space and apps that enable music to be streamed on-the-go (via Android smartphones and iOS devices) without the need to for time-sinking synching, or storage-sucking storage.
Photo: Richard Cox, Flickr.