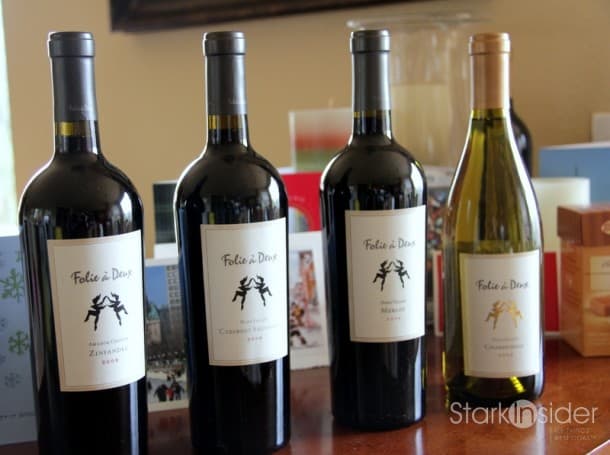 Okay so maybe "shoot-out" isn't exactly the most well-suited expression for this wine tasting. Perhaps I'm borrowing too much from Car & Driver, or Popular Photography, two of my favorite iPad reads. Regardless, what we have here is the latest line-up from Folie à Deux: '09 Chardonnay, and '08 Merlot, Zinfandel and Cabernet Sauvignon. All for under $20, except for that Cab which rings in at just $24.
The big question on the evening we tasted was: Which of these four wines was best?
To help us decide – and "share in this fantasy" – we enrolled a crack pot team of taste testers. Which is to say, we handed out tasting note forms, pens and marked glasses to each of the family members that joined us on this particular evening. One thing I learned: once again, wine is simply one of the best conversation starters going around (aside from the Casey Anthony trial, or why the San Sharks mortgaged their future for Brent Burns, that is). You just can't beat the love for all things grape, especially when you're trying to cajole an opinion, a descriptor. Often what you get, is emotion. "Ahh, too dryyyy!" "Wow, I'm surprised – this tastes better than I thought it would!"
Dinner would follow, but the tasting was first, and a great warm-up to a wonderful evening with family. The only rule was that each of us had to score and rank independently. This was a blind tasting.
On to the results.
2009 Folie à Deux Napa Valley Cardonnay ($18)
on the nose: apples and melba peaches
smooth finish
lemongrass, pineapple
some oak but overpowering
fragrant, sweet on the palate
2008 Folie à Deux Napa Valley Merlot ($18)
on the nose: blueberries, pine
dry finish, with some sweetness on the back-end
cheeries, plums
finish: "meh, lacking"
2008 Folie à Deux Amador County Zinfandel ($18)
on the nose: plum, smokey, currant
dry as bone
chocolate
age it: 3-5 years?
2008 Folie à Deux Napa Valley Cabernet Sauvignon ($24)
on the nose: black cherry
somewhat underwhelming, tannins laid back
dry, lacking on the finish
After everyone had jotted their tasting notes, and after some animated conversation, I asked everyone to rank their favorites. I tallied the votes and here's the final rankings:
Stark Insider Shoot-Out Results: Folie à Deux

1. '09 Chardonnay

2. '08 Zinfandel (the surprise of the evening)

3. '08 Merlot

4. '08 Cabernet Sauvignon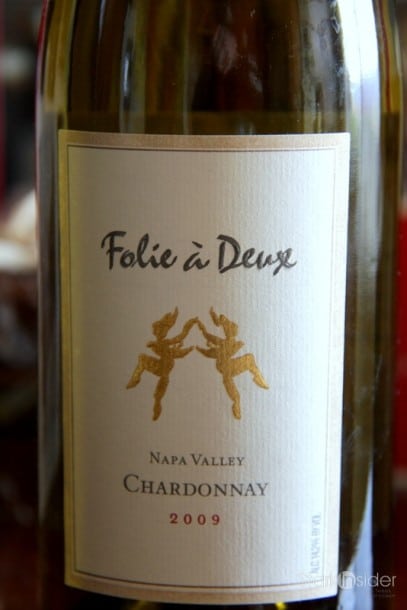 In total, there were four of us, including myself, tasting. Scientific results? Not by a long shot. But when it comes to wine, is there really such a thing? We were simply capturing our expriences, and transcribing our senses. I should note that all of us have been tasting wine, especially in Sonoma and Napa, for over twenty years, so I'm not talking about, say, a 18-year old cousin who likes box wine from CVS (not that there's anything wrong with that…).
None of these wines were duds. All our reasonable priced. Overall, it made for a fun evening, and I highly recommend you try the same thing next time you have a get together. In this case we tasted some samples from Folie. But you could easily line up a vertical based on varietal, vintage or region. The possibilities are endless. And, as you'd be expect, so is the conversation!