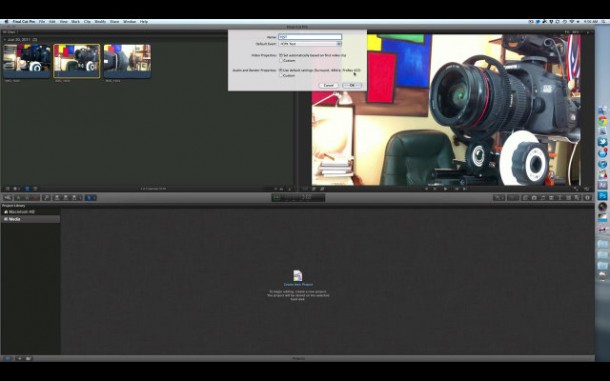 Final Cut Pro X is here and I'm sure you've seen a headline or two about that announcement — Apple has a way of garnering its fair share of attention don't you think? I was up in Ottawa when Apple made it available on the App store ($299). Although I was enjoying some time away from the connectedness we all so love I managed to grab a few minutes here and there to read some of the early thoughts. Most were simple recaps of the features (magnetic timeline, auto color correction, background ingestion encoding, etc.) and now this morning we're actually starting to see more substantive reports.
For those that have been following along, the question remains: Is it worth switching from Adobe Premiere Pro?
Although I have a MacBook Pro, I have yet to download the software, and could very well do just that to put it through its paces. I recently upgraded to CS 5.5 and have no issues with it, aside from occasional — and very frustrating — instability (i.e. it crashes, and I get that infinite spinning/waiting Windows 7 icon and need to reboot which costs me about 10 minutes).
One thing that stands out so far with FCPX is the speed. It loads fast. Works fast. It's just fast, fast, fast.
Many are complaining about the UI which no doubt looks like iMovie's big brother. Some call it "iMovie Pro" It doesn't bother me.
I'll be looking for more in-depth reviews from some of the video and film guys out there as I continue to evaluate whether I should make the jump. Regardless if I do or not, new computer hard will be involved, with the two options as follows:
1. Final Cut Pro X / iMac 27″ i7 ($2199)
or
2. Adobe Premiere Pro CS 5.5 / DIY 27″ PC i7, Nvidia (about $1900)
Here's one of the better videos I found of an somewhat (admitted) rambling tour. What I like about it is he walks through it for the first time and provides a helpful, on-going commentary:
Example of some of my work with Premiere Pro
Warp Stabilization: Before and After
The decision process continues…